Development of Photoelectric Effect Learning Media on Physics Learning at Vocational High Schools
Eko Mulyadi

SMK Negeri 3 Yogyakarta, Yogyakarta, Daerah Istimewa Yogyakarta, Indonesia
Abstract
The development of photoelectric effect learning media in the form of a series of solar cells, which aims to: 1) study the feasibility of photoelectric effect learning media, 2) facilitate students' understanding of the photoelectric effect, 3) make students enjoy learning the photoelectric effect and 4) measure the role of solar cell learning media in help students understand. The development process uses the Borg & Gall model: 1) Potential (Problem), 2) data collection, 3) product design validation, 4) revision, 5) trial, 6) revision, 7) the resulting product. by using 4 solar panels arranged in parallel connected by wires 2 pieces of positive and negative wires, to resistance, capacitors and diodes, then to LED lights, the product of the design is assembled, the results are judged by media experts, material experts and users, judgments from media experts , material experts and users in the recapitulation, to determine the feasibility, the results of input and suggestions for product improvement. The results of the assessment obtained an average of 4.00 good categories of media experts, material experts of 4.40 very good categories and users obtained an average of 3.85 good categories and the media was feasible to use, students who understood the photoelectric effect material with media by 58%, students who like learning photoelectric effect with media 27% are very good, 35% are good, students assess the role of learning media photoelectric effect, 46% are very good and 35% are good.
Keywords:
learning media, photoelectric effect, solar cell
PDF Downloads
Download data is not yet available.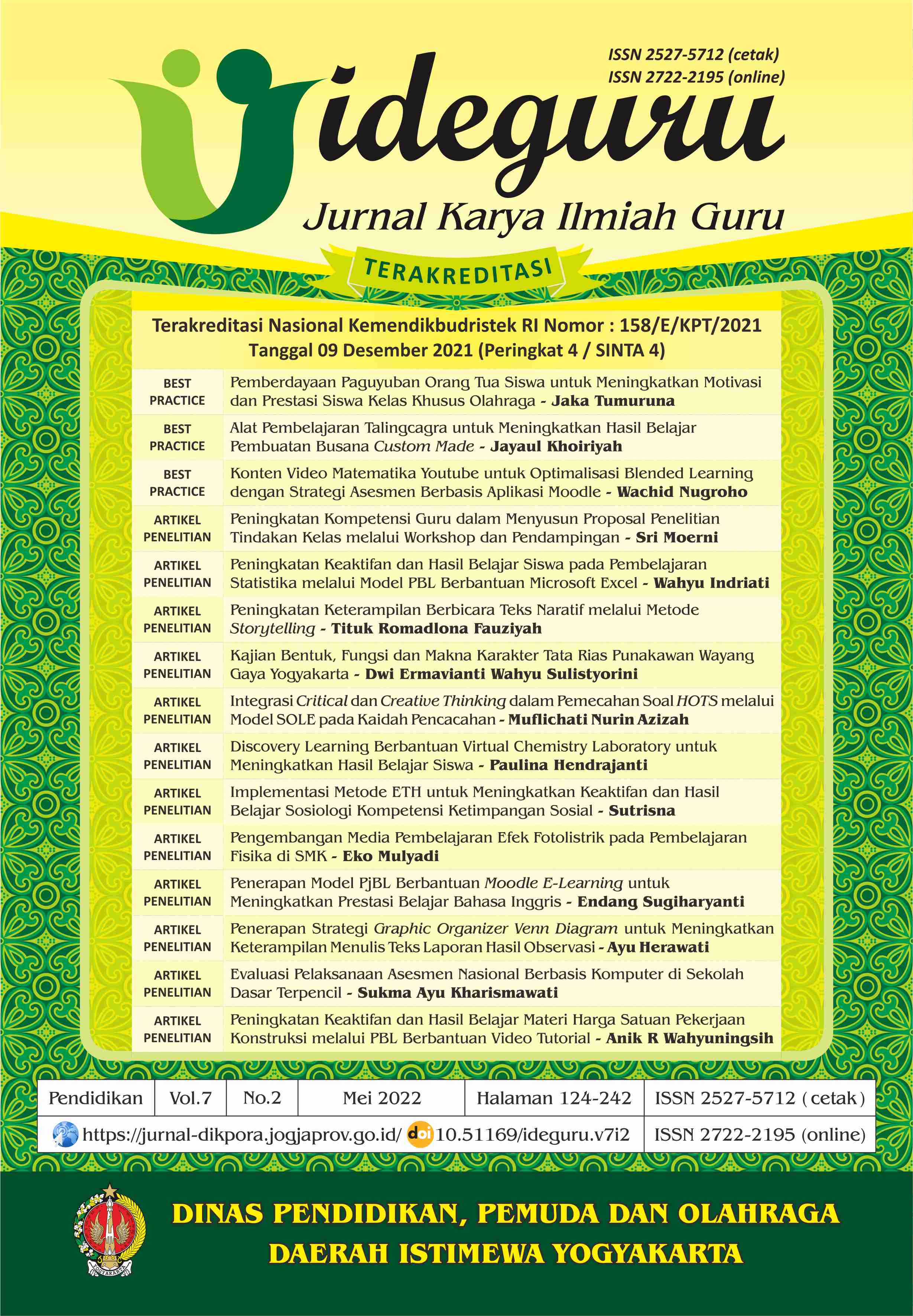 How to Cite:
Mulyadi, E. (2022). Development of Photoelectric Effect Learning Media on Physics Learning at Vocational High Schools. Ideguru: Jurnal Karya Ilmiah Guru, 7(2), 206-211. https://doi.org/10.51169/ideguru.v7i2.361
Section
Research Articles
Copyright (c) 2022 Eko Mulyadi
This work is licensed under a Creative Commons Attribution 4.0 International License.

Abstract viewed: 361 times

PDF (Bahasa Indonesia) downloaded: 480 times