IMPROVING LEARNING MOTIVATION AND STUDENT PHYSICS LEARNING OUTCOMES THROUGH THE GROUP INVESTIGATION LEARNING MODEL
Eko Mulyadi

SMK Negeri 3 Yogyakarta, Yogyakarta, Daerah Istimewa Yogyakarta, Indonesia

Warnoto Warnoto

SMK Negeri 3 Yogyakarta, Yogyakarta, Daerah Istimewa Yogyakarta, Indonesia
Abstract
This Classroom Action Research aims to increase learning motivation and student achievement in Physics learning in XTL2 grade SMK Negeri 3 Yogyakarta through the Group Investigation (GI) model in learning Fluid and Wave Competence Physics. This study was conducted in two cycles, each cycle consisting of 2-3 meetings, each meeting with an allocation of 3 lesson hours. Each cycle includes four steps, namely planning, action, observation and reflection. The results showed that the increase in motivation to learn in the first cycle by 75%, in the second cycle of 90.63% an increase of 16.63%. Improvement of the average pre-cycle learning outcomes of 31.09, the first cycle of an average of 65.60 completed 28.13%, in the second cycle an average of 86.28, 68.75% complete. This research is 2 cycles, because in cycle II, learning motivation is more than 80%, and learning achievement achievement is more than 60%, the application of the GI model needs to be applied and continued in learning due to an increase in both learning motivation and learning achievement.
Keywords:
GI, learning motivation, achievement of learning outcomes
PDF Downloads
Download data is not yet available.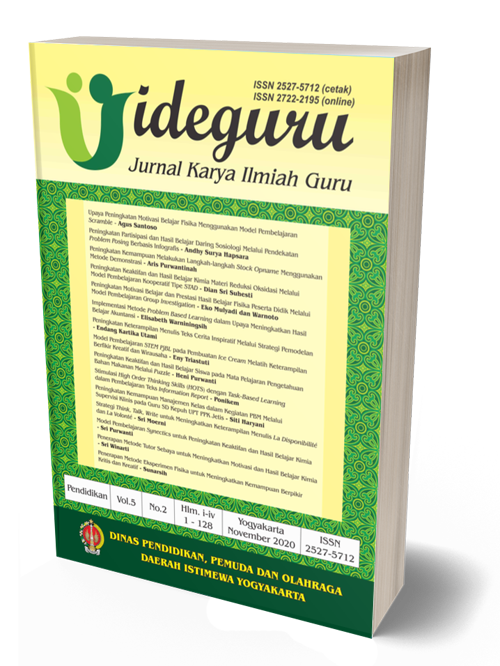 How to Cite:
Mulyadi, E., & Warnoto, W. (2020). IMPROVING LEARNING MOTIVATION AND STUDENT PHYSICS LEARNING OUTCOMES THROUGH THE GROUP INVESTIGATION LEARNING MODEL. Ideguru: Jurnal Karya Ilmiah Guru, 5(2), 39 -. https://doi.org/10.51169/ideguru.v5i2.125
Section
Research Articles
Copyright (c) 2020 Eko Mulyadi, Warnoto Warnoto
This work is licensed under a Creative Commons Attribution 4.0 International License.

Abstract viewed: 266 times

PDF (Bahasa Indonesia) downloaded: 293 times