Implementation of the "Pair System" Strategy to Increase Validity of Graduates Tracking
Bujang Sabri

SMK Negeri 3 Yogyakarta, Yogyakarta, Daerah Istimewa Yogyakarta, Indonesia

Eko Mulyadi

SMK Negeri 3 Yogyakarta, Yogyakarta, Daerah Istimewa Yogyakarta, Indonesia
Abstract
Tracer study is a strategy to trace graduates in order to obtain valid data, the number of employed, entrepreneurship and continuing college. The "Pair system" strategy is a process of tracking alumni by involving new students looking for a partner in the closest area in order to increase the more updated / recent graduate data. The purpose of implementing the Pair System in graduate tracing is to describe the strategy for increasing the validity of graduate tracing through the Pair System and the graduate employment map according to competence. The method is, new students are paired with the closest alumni, either through digital communication and / or home visits, in addition to obtaining information, new students gain learning experiences from alumni. The "Pair System" strategy has gone through a process of micro and macro analysis of the school and then a SWOT analysis is carried out which takes into account the strengths, weaknesses, opportunities and challenges and is described in the SWOT matrix. The results of applying the Pair System tracing strategy were obtained 72% to 93%, there was an increase of 21%, while the results of the graduates' employment with this strategy were 52% to 72%. Work according to skill competencies, namely Light Vehicle Engineering expertise from 41% absorbed to 72%, Mechanical Engineering 50% to 70%, Electrical Power Installation Engineering from 33% to 68%, Audio Video Engineering 36% to 68%, modeling design and building information 43% to 52%. The implementation of strategies can increase the validity of tracing and employment, and is useful for building family ties, especially competence, communication and networking.
Keywords:
pair system, new students, alumni
PDF Downloads
Download data is not yet available.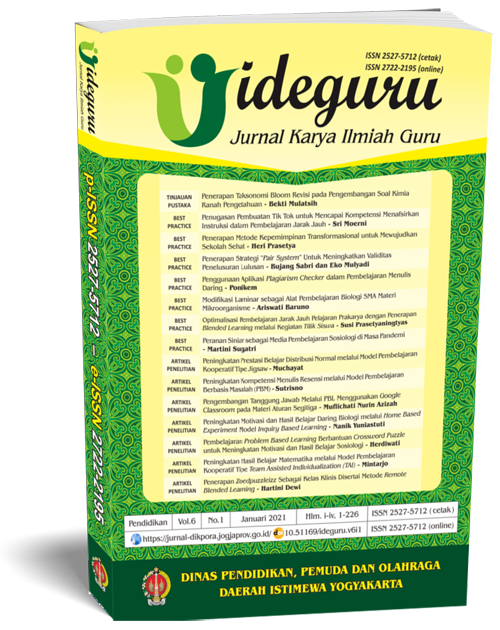 How to Cite:
Sabri, B., & Mulyadi, E. (2021). Implementation of the "Pair System" Strategy to Increase Validity of Graduates Tracking. Ideguru: Jurnal Karya Ilmiah Guru, 6(1), 27-34. https://doi.org/10.51169/ideguru.v6i1.189
Copyright (c) 2021 Bujang Sabri, Eko Mulyadi
This work is licensed under a Creative Commons Attribution 4.0 International License.

Abstract viewed: 218 times

PDF (Bahasa Indonesia) downloaded: 205 times