ONLINE PHYSICS LEARNING VIA WHATSAPP, GOOGLE FORM, AND EMAIL IN THE ACHIEVEMENT OF ACTIVE PRESENCE AND STUDENT LEARNING OUTCOMES
Eko Mulyadi

SMK Negeri 3 Yogyakarta, Yogyakarta, Daerah Istimewa Yogyakarta, Indonesia
Abstract
The corona virus outbreak is taking place in Indonesia and global society since March, 2020. The virus spread from person to person through physical contact so that the government prohibit gathering activities. This condition forced application of online learning in the field of education. This study aims to measure the active presence, learning outcomes and effectiveness of online physics learning through WhatsApp, google form, and email. Topics in online physics learning were Heat (March 24, 2020) and Thermodynamics (March 31, 2020). This study is an evaluation research that conducted in the following steps: 1) Determine the schedule for Physics online learning for class X every Tuesday at 09.00-10.30 am (1.5 hour), 2) Create or using the available a WhatsApp group that had been created by homeroom teacher, 3) Create a google form for student attendance, 4) Create a link to be delivered in the WhatsApp group, therefore the structured assignments were delivered via email, 5) Review student assignments, and 6) Recapitule students' active presence and physics learning outcomes. Results of the study reveal that the average of students' active attendance at March 24, 2020 was 87.25%, and the average learning outcomes was 87.89. The average of students active attendance and the average learning outcomes at March 31, 2020 were 94.75%, and 79.66, respectively. The average achievement of active attendance and learning outcomes were 91% and 83.77, respectively. This result indicate that student achievement was passed the minimum competence level in physics, i.e 75. It can be concluded that online physics learning using WhatsApp for communication combined with google form for assessment is effective, both for teacher and students.
Keywords:
online, active presence, learning outcomes
PDF Downloads
Download data is not yet available.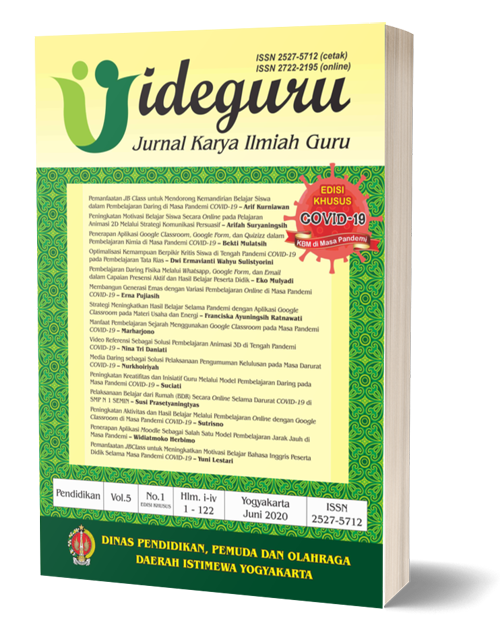 How to Cite:
Mulyadi, E. (2020). ONLINE PHYSICS LEARNING VIA WHATSAPP, GOOGLE FORM, AND EMAIL IN THE ACHIEVEMENT OF ACTIVE PRESENCE AND STUDENT LEARNING OUTCOMES. Ideguru: Jurnal Karya Ilmiah Guru, 5(1), 34 -. https://doi.org/10.51169/ideguru.v5i1.156
Copyright (c) 2020 Eko Mulyadi
This work is licensed under a Creative Commons Attribution 4.0 International License.

Abstract viewed: 563 times

PDF (Bahasa Indonesia) downloaded: 3547 times