Application of Kelasiber Based on Online Learning Videos to Increase Activeness and Learning Outcomes of Physics
Eko Mulyadi

SMK Negeri 3 Yogyakarta, Yogyakarta, Daerah Istimewa Yogyakarta, Indonesia
Abstract
This Action Research aims to increase the activeness and learning outcomes of students in the XTP2 class of SMKN 3 Yogyakarta by implementing Kelasiber based on online learning videos of Physics for the Competence of Static and DC Electricity. This research was conducted in two cycles, each cycling consisting of two meeting, each meeting with a time allocation of two lesson hours. Each cycle includes, namely planning, acting, observing and reflecting. Kelasiber Based on online learning Videos with steps of Inform the Kelasiber, Search for Learning Videos, Students Watching Videos, Doing Exercise, Teachers analyze Activeness and Learning Outcomes, Feedback on Learning Results. Activeness is measured by: punctual attedance, attedance, asking questions, and watching videos, while the aspects of learning achievement are measured from the test. The Results showed that the increase in activeness in cycle I, punctuality of 61.11%, presence of 72.22%, asking questions of 5.56%, view video 44.44%, in cycle II of punctuality of 55.55%, presence of 80,55%, asking questions 11.11%, view video 77.77%, so that the average is 59.42, cycle 1 has an average of 78, in cylce 2 it average 89. The increase in activeness is 55% and student learning outcmes average above 80, so the application of learning videos-based Kelasiber needs to be applied and continued in learning because of an increase in both activeness and achievement of learning outcomes.
Keywords:
kelasiber, learning videos, activeness, learning outcomes
PDF Downloads
Download data is not yet available.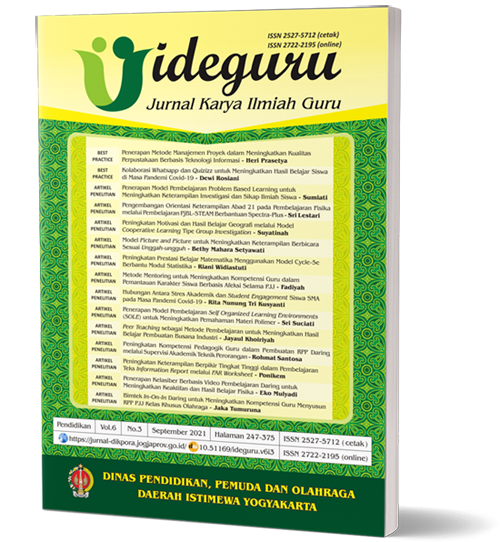 How to Cite:
Mulyadi, E. (2021). Application of Kelasiber Based on Online Learning Videos to Increase Activeness and Learning Outcomes of Physics. Ideguru: Jurnal Karya Ilmiah Guru, 6(3), 359-367. https://doi.org/10.51169/ideguru.v6i3.295
Section
Research Articles
Copyright (c) 2021 Eko Mulyadi
This work is licensed under a Creative Commons Attribution 4.0 International License.

Abstract viewed: 247 times

PDF (Bahasa Indonesia) downloaded: 216 times