Peningkatan Kompetensi Guru Kelas Mengimplementasikan Model Pembelajaran Inquiry melalui In House Training
Franciscus Xaverius Suparman

SD Negeri 2 Wates, Kulon Progo, Daerah Istimewa Yogyakarta, Indonesia
Abstract
The quality of education can be optimized by professional teacher performance so that the professional competence of teachers needs to be improved. The competence of SD Negeri 2 Wates teachers is low due to a lack of understanding of the learning model and its student-centered implementation. The research aims to increase the competence of class teachers in implementing the inquiry learning model through In House Training (IHT) in January-April 2022 semester II of the 2021/2022 Academic Year.The research subjects were class II and V teachers. The research approach was descriptive qualitative. The data collection was obtained through observation, interviews, and document studies. The research implementation was realized in two cycles. The stages of each cycle are planning, action, observation and reflection. The results showed an increase of 23.58% with an average of 86.79. The first cycle increased 13.22%, the second 10.36%. Implementation of IHT rose 7.50% in the first cycle 2.50% and 5.00% in the second. Teacher behavior increased 10.63%, namely the first cycle 3.13% and the second 7.50%. IHT was able to increase the competence of class II and V teachers in implementing the inquiry learning model at SD Negeri 2 Wates.
Keywords:
teacher competence, inquiry learning model, in house training
PDF Downloads
Download data is not yet available.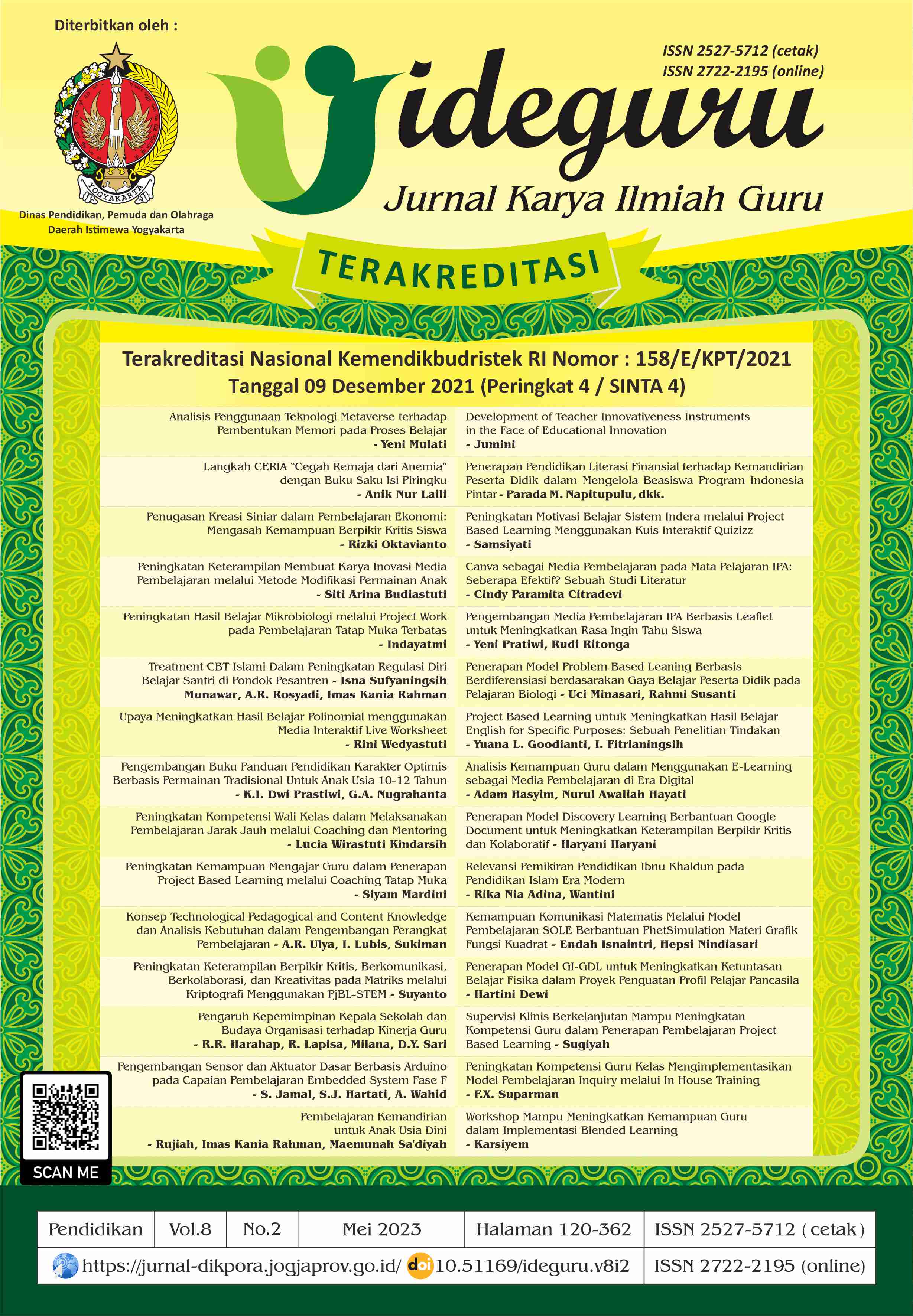 How to Cite:
Suparman, F. X. (2023). Peningkatan Kompetensi Guru Kelas Mengimplementasikan Model Pembelajaran Inquiry melalui In House Training. Ideguru: Jurnal Karya Ilmiah Guru, 8(2), 346-353. https://doi.org/10.51169/ideguru.v8i2.564
Section
Research Articles
Copyright (c) 2023 Franciscus Xaverius Suparman
This work is licensed under a Creative Commons Attribution 4.0 International License.

Abstract viewed: 62 times

PDF (Bahasa Indonesia) downloaded: 53 times