PENINGKATAN KOMPETENSI GURU DALAM MENYUSUN RPP MELALUI SUPERVISI AKADEMIK BERKELANJUTAN
Heny Rismiati

SD Sindet, Jetis, Bantul, Yogyakarta, Indonesia
Abstract
The aim of this study was improving teacher competence in preparing RPP, knowing the right steps in conducting continuous academic supervision, and to measure the precentage of teacher competency improvement in preparing RPP. The study method was done in two cycles that consist four stages of planning, implementation, servation and reflection. Techniques in this study were interviews with teachers and observation of teaching and learning procces conducted by teachers in SD Sindet UPT PPK Jetis Bantul district in academic year of 2017/2018. The result of this study is incnease of teacher ability in learning activity, especially in preparing RPP after they were given a guidance and continuous academic supervision. In initial of the study, the teacher ability in making RPP was ranges from 30% to 60%. After passing through continvous academic supervision until the end of this study, there was a significant increase of teacher ability in preparing RPP that was ranges from 80% to 90%.
Keywords:
continuous academic supervision, competency, RPP
PDF Downloads
Download data is not yet available.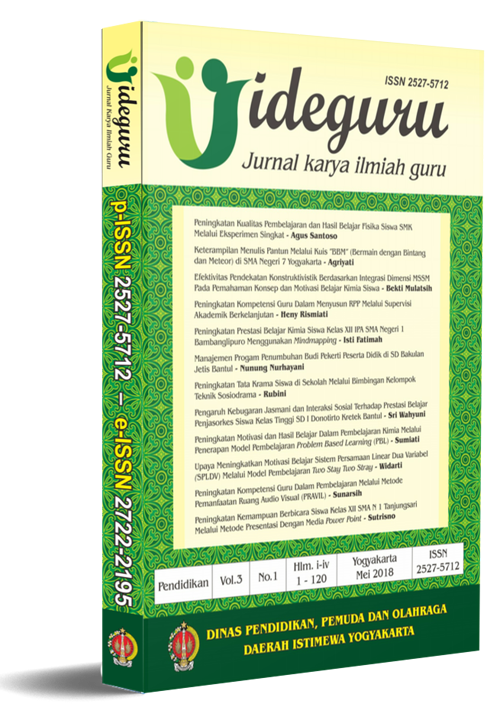 How to Cite:
Heny Rismiati. (2018). PENINGKATAN KOMPETENSI GURU DALAM MENYUSUN RPP MELALUI SUPERVISI AKADEMIK BERKELANJUTAN. Ideguru: Jurnal Karya Ilmiah Guru, 3(1), 33-39. Retrieved from https://jurnal-dikpora.jogjaprov.go.id/index.php/jurnalideguru/article/view/41
Section
Research Articles

Abstract viewed: 203 times

PDF downloaded: 521 times