PENINGKATAN MOTIVASI DAN HASIL BELAJAR DALAM PEMBELAJARAN KIMIA MELALUI PENERAPAN MODEL PEMBELAJARAN PROBLEM BASED LEARNING (PBL)
Sumiati Sumiati

SMA Negeri 1 Bantul, Bantul, Daerah Istimewa Yogyakarta, Indonesia
Abstract
The purpose of this study is to increase the motivation of chemistry learning with the application of Problem Based Learning model, so it can improve the student's achievement in chemistry. This study is a classroom action research with subjects of class XI IPA 8 students at SMA N 1 Bantul in the first semester of 2016/2017 academic year. The subject were 34 students that consists of 14 boys and 20 girls. The data collection was done by using daily journal observation sheets, student questionnaire, interviews, documentation and testing. Descriptive data were analyzed qualitatively through severel stages of data reduction, data presentation, and conclusion. The results of the study is that model Problem Based learning can improve motivation and learning achievement at equilibrum chemical concept. To Increase The Result of Student's Learning Equilibrum Chemical Concept Via PBL's Learning Model (Problem Based learning) the average of the student study result in the first cycle is 77,70, the second is 86,90. The second cycle showed 94.11% met the criteria studied thoroughly with the value of more than or equal to 75 of more than 85%. In conclusion, the use of model Problem Based Learning can improve motivation and learning achievements of learners and teachers can develop and implement the model of learning in the classroom.
Keywords:
the classroom action research, the result of student's learning, PBL's learning model (problem based learning)
PDF Downloads
Download data is not yet available.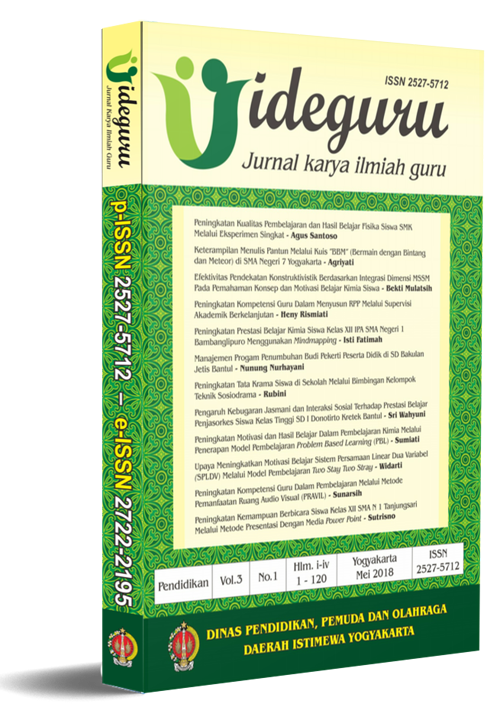 How to Cite:
Sumiati, S. (2018). PENINGKATAN MOTIVASI DAN HASIL BELAJAR DALAM PEMBELAJARAN KIMIA MELALUI PENERAPAN MODEL PEMBELAJARAN PROBLEM BASED LEARNING (PBL). Ideguru: Jurnal Karya Ilmiah Guru, 3(1), 85-92. Retrieved from https://jurnal-dikpora.jogjaprov.go.id/index.php/jurnalideguru/article/view/46
Section
Research Articles

Abstract viewed: 563 times

PDF downloaded: 1196 times