Improving Higher Order Thinking Skills in Information Report Text Learning through Formative Assessment with Reasoning Worksheet
Ponikem Ponikem

SMP Negeri 1 Wonosari, Indonesia
Abstract
This study aimed at improving students' higher order thinking skills (HOTS) in learning information report texts through Formative Assessment with Reasoning (FAR) Worksheets in class IXE SMP Negeri 1 Wonosari in semester 2 of the 2019/2020 academic year. This research consisted of 2 cycles. Cycle 1 consisted of 3 meetings and Cycle 2 consisted of 2 meetings. The stages of research included planning, implementing and observing, and reflecting. The research data were taken through tests, questionnaires and observations of the learning process. The test results and questionnaires were processed, averaged and then compared with indicators of success. Observational data were processed by enumeration of the results of observations of teacher and student activities. The results of the enumeration were converted into "Very Low", "Low", "High" and "Very High" categories. The results of the study were the increase in the HOTS of students as indicated by the increase in the average results of tests and questionnaires. The comparison of the mean scores of the initial test, the final test of Cycle 1, and the final test of Cycle 2 was 51.7:46.4:68.5. Indicators of success based on test results were met by obtaining an increase of 22.1. Comparison of the average percentage of students answering "Confident" and "Very Confident" on statements 4, 5, and 6 which were confirmations of students' abilities in working on questions of types C4, C5, and C6 which represented higher-order thinking skills at the level of analyzing, evaluating, and creating in Cycle 1 and Cycle 2 was 23.61% and 30,43%. The indicator of success based on the results of the questionnaire was met with an increase of 6.82%. The quality of the learning process increased to "HIGH" based on the observations.
Keywords:
higher order thinking skills, information report text, formative assessment with reasoning
PDF Downloads
Download data is not yet available.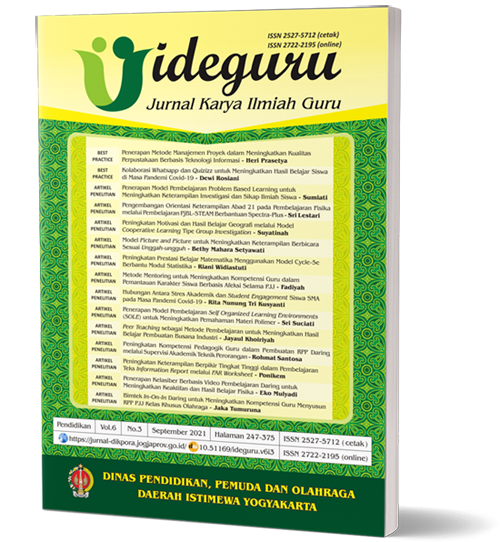 How to Cite:
Ponikem, P. (2021). Improving Higher Order Thinking Skills in Information Report Text Learning through Formative Assessment with Reasoning Worksheet. Ideguru: Jurnal Karya Ilmiah Guru, 6(3), 348-358. https://doi.org/10.51169/ideguru.v6i3.294
Section
Research Articles
Copyright (c) 2021 Ponikem
This work is licensed under a Creative Commons Attribution 4.0 International License.

Abstract viewed: 376 times

PDF (Bahasa Indonesia) downloaded: 215 times