The Use of Plagiarism Ckecker Application in Online Writing Learning
Ponikem Ponikem

SMP Negeri 1 Wonosari, Indonesia
Abstract
The spread of Corona Virus Disease (Covid-19) which is widespread in almost all over the world requires the issuance of regulations governing the implementation of education in order to save the nation from the dangers of the Covid-19 pandemic. Studemts' learning products need tobe verified, one of which is plagiarism check. As a best practice, checking plagiarism on writing products can be done more easily during online learning. Learning to write procedural texts with the theme "How to Use Masks" in Class IX in semester 2 of the 2019/2020 school year succeeded in providing the best experience related to checking plagiarism. The learning material is in the form of two videos, which serve as input and serve as inspiration for composing new texts. Writing learning products in the form of text are assessed based on a certain rubric. One of the aspects in this rubric is the percentage number of product uniqueness which describes the level of authenticity of learning products that are checked using the Plagiarism Checker application which is accessed online. Learning products are scored for assessment purposes and at the same time the level of plagiarism is measured. The measurement results show a mastery level of 96% with an average score of 86, the lowest score of 65, the highest score of 97. The results of checking the percentage of product uniqueness are 100% unique as much as 53%, 1 to 99% unique as much as 36%, 0% unique as much as 2%, and 9% were undetectable. The results of this plagiarism check provide experiences for both students and educators to prioritize aspects of the authenticity or originality of the work. The best practice innovation points lie in the inclusion of the uniqueness of the work in the assessment of writing products.
Keywords:
plagiarism check, writing learning products, online learning
PDF Downloads
Download data is not yet available.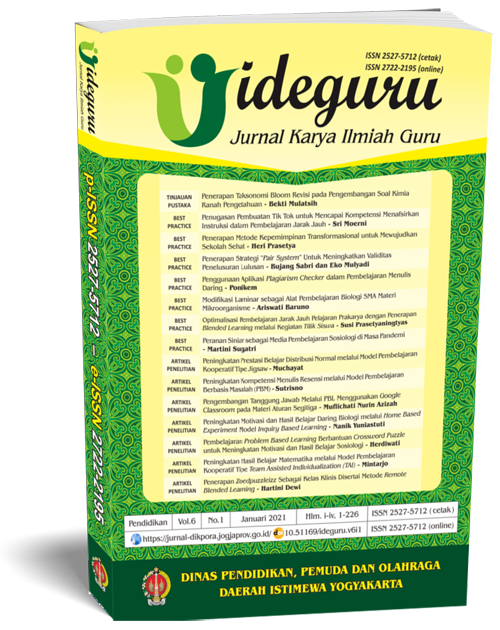 How to Cite:
Ponikem, P. (2021). The Use of Plagiarism Ckecker Application in Online Writing Learning. Ideguru: Jurnal Karya Ilmiah Guru, 6(1), 35-43. https://doi.org/10.51169/ideguru.v6i1.192
Copyright (c) 2021 Ponikem
This work is licensed under a Creative Commons Attribution 4.0 International License.

Abstract viewed: 1061 times

PDF (Bahasa Indonesia) downloaded: 303 times