PENINGKATAN KEGIATAN KOMUNIKATIF DALAM PEMBELAJARAN BAHASA INGGRIS MELALUI TASK-BASED LEARNING ENVIRONMENT ("TABLE")
Ponikem Ponikem

SMP Negeri 1 Wonosari, Indonesia
Abstract
"Teaching for testing" learning practice reduces the nature of language learning to learn to communicate. This classroom action research aims to improve the communicative activities of learners in learning English through a task-based learning environment for students of Year 9D SMP Negeri 1 Wonosari in semester II academic year 2016/2017. This study lasted for 2 cycles with each cycle consisting of 5 meetings. Data collection techniques used were questionnaires and observations of communicative activities as primary data sources as well as interviews, diaries, and documentation as secondary data sources. The results showed that the communicative activities of learners in English learning increased through the use of task-based learning environment. This is evidenced by: 1) increasing the percentage of learners who belong to Sometimes, Often, and Always and the decline in percentage of the category Rarely and Never; 2) increasing the frequency of frequent use of all types of expressions. These indicate the increased ability to capture information, communicate classically in the classroom, communicate in groups, communicate as an audience, and communicate spontaneously during learning.
Keywords:
communicative activities, task-based learning environment
PDF Downloads
Download data is not yet available.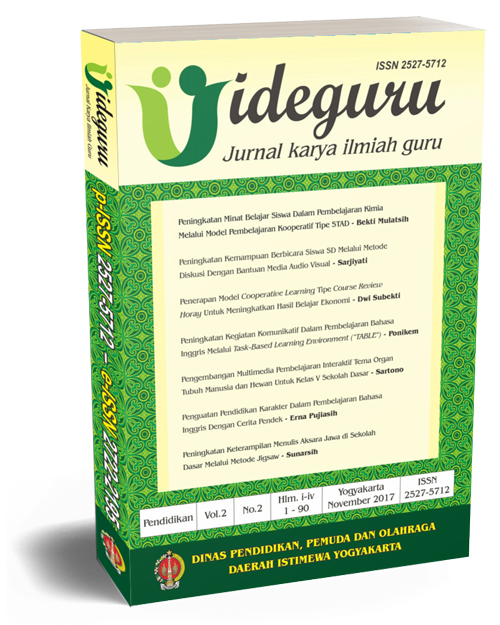 How to Cite:
Ponikem, P. (2017). PENINGKATAN KEGIATAN KOMUNIKATIF DALAM PEMBELAJARAN BAHASA INGGRIS MELALUI TASK-BASED LEARNING ENVIRONMENT ("TABLE"). Ideguru: Jurnal Karya Ilmiah Guru, 2(2), 45-59. Retrieved from https://jurnal-dikpora.jogjaprov.go.id/index.php/jurnalideguru/article/view/34
Section
Research Articles

Abstract viewed: 96 times

PDF downloaded: 269 times