STIMULATING HIGH ORDER THINKING SKILLS (HOTS) WITH TASK-BASED LEARNING IN INFORMATION REPORT TEXT LEARNING
Ponikem Ponikem

SMP Negeri 1 Wonosari , Indonesia
Abstract
Higher order thinking skills (HOTS) must be stimulated early in learning at school. One way is by implementing task-based learning. As a best practice, the implementation of this learning model aimed to involve students in tasks that require the use of various levels of thinking to produce real learning products (outcomes). Learning English class IX semester 2 in class 9G SMP Negeri 1 Wonosari 2018/2019 academic year on information report text material with task-based learning had succeeded in providing learning experiences to students in understanding the concept of information report text, making a summary of the results of reading references in the form of mindmapping, compiling presentation materials and presentation notes, making presentations both as presenter and audience. The entire learning process was directed to use the target language and involved communication and collaboration activities in developing thinking skills from the lowest to the highest levels. Best practice results showed that this learning practice was able to stimulate thinking skills and at the same time improve students' communication and collaboration skills. The low mastery of studnets' functional expressions is a weakness that hinders the continuity of presentations. Therefore, the role of teacher as a solution provider is still needed.
Keywords:
high order thinking skills, task-based learning, Information Report Text
PDF Downloads
Download data is not yet available.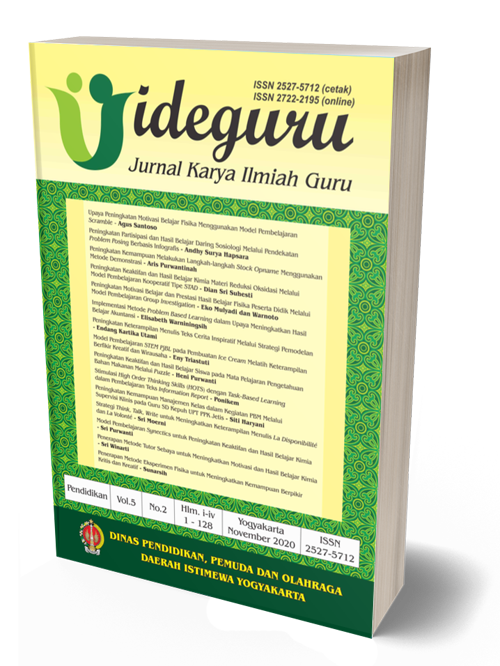 How to Cite:
Ponikem, P. (2020). STIMULATING HIGH ORDER THINKING SKILLS (HOTS) WITH TASK-BASED LEARNING IN INFORMATION REPORT TEXT LEARNING. Ideguru: Jurnal Karya Ilmiah Guru, 5(2), 82 -. https://doi.org/10.51169/ideguru.v5i2.168
Section
Research Articles
Copyright (c) 2020 Ponikem Ponikem
This work is licensed under a Creative Commons Attribution 4.0 International License.

Abstract viewed: 416 times

PDF (Bahasa Indonesia) downloaded: 622 times