Implementation of Ako for Improving Learning Quality of the Basic of Creativity for Teachers and Students in SMKN 3 Kasihan Bantul
Nina Tri Daniati

SMK Negeri 3 Kasihan, Indonesia
Abstract
Understanding what creativity is is not enough just to understand it in theory, but rather on how to form a creative mindset. Considering the importance of creativity for students studying at Vocational Schools majoring in Arts and Creative Industries, quality learning is needed about The Basic of Creativity which is more than just a lecture method so that students are able to become creative figures in creating art both in the learning process at school, and in time will be applied in the Business World / Industrial World. Quality teaching is the most important impact that an education system can have on student achievement. On April 29-May 17, 2019, the authors participated in the Professional Teacher Development Program on Vocational Arts & Creative Industries, held in Aucland, New Zealand and the authors gained new knowledge in the pedagogical field, one of which was the Ako Learning Concept. Ako is the Māori language term for teaching and learning, Ako describes a reciprocal relationship in which students learn from the teacher and the teacher also learns from students. This best practice research aims to describe the steps of the implementation of Ako to improve the quality of learning The Basic of Creativity that is sustainable for teachers and students. The expected benefit of preparing this paper is to improve the quality of learning of The Basic of Creativity which is ongoing for teachers and students. After undergoing a series of work steps guided by the teacher, it is hoped that they can instill a mindset of students on how to be creative and innovative, and the teacher gets feedback to plan for better feedforward.
Keywords:
Creativity, Ako, Quality of Learning
PDF Downloads
Download data is not yet available.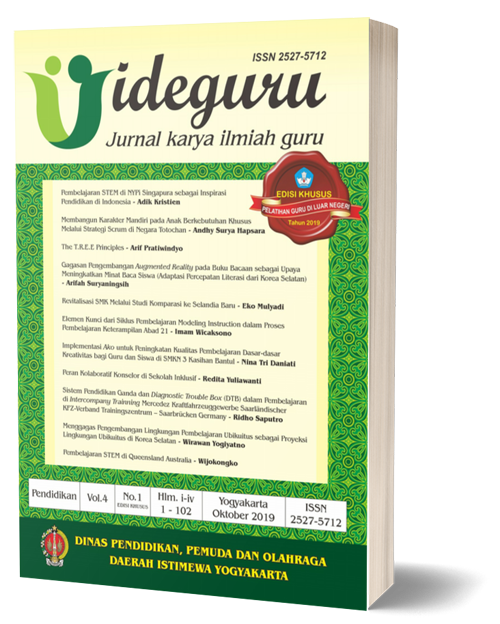 How to Cite:
Daniati, N. T. (2019). Implementation of Ako for Improving Learning Quality of the Basic of Creativity for Teachers and Students in SMKN 3 Kasihan Bantul. Ideguru: Jurnal Karya Ilmiah Guru, 4(1), 60-67. https://doi.org/10.51169/ideguru.v4i1.83
Section
Literature Review
Copyright (c) 2019 Nina Tri Daniati
This work is licensed under a Creative Commons Attribution 4.0 International License.

Abstract viewed: 191 times

PDF (Bahasa Indonesia) downloaded: 204 times