REFERENCE VIDEOS AS 3D ANIMATION LEARNING SOLUTIONS IN COVID-19 PANDEMICS
Nina Tri Daniati

SMK Negeri 3 Kasihan, Indonesia
Abstract
The increase in positive cases in Indonesia due to the 2019 Corona Disease Virus (Covid-19) has made the government implement social distancing to prevent and minimize the spread of the virus. In education, one of the solutions offered is to do digital or online learning based on IT. But in SMK Negeri 3 Kasihan Bantul especially in class XI Animation program, there are still many students who have difficulty in making realistic animations. Amid the covid-19 pandemic conditions, it is very difficult for students to learn animation without guidance from the teacher. Therefore for students who are still in this learning phase, to produce realistic 3D animations requires learning media that can be used as a reference. One appropriate reference is in the form of a video record. Learning in this way includes 8 steps: (a) Making a learning plan; (b) Delivering learning activities; (c) Making reference videos independently; (d) The teacher evaluates the results of the reference video shoot; (e) Using video as a reference in making animations; (f) Students render their work, (g) Students present their work; (h) The teacher reviews the work of students. The result of applying reference videos as an animated learning solution in the midst of the covid-19 pandemic: (a) The bounce-ball animation of student's work becomes more realistic and approaches the motion of the real object; (b) Students are able to absorb learning material well even without face to face with the teacher.
Keywords:
Covid-19, distance learning, reference videos, bounce-ball animation
PDF Downloads
Download data is not yet available.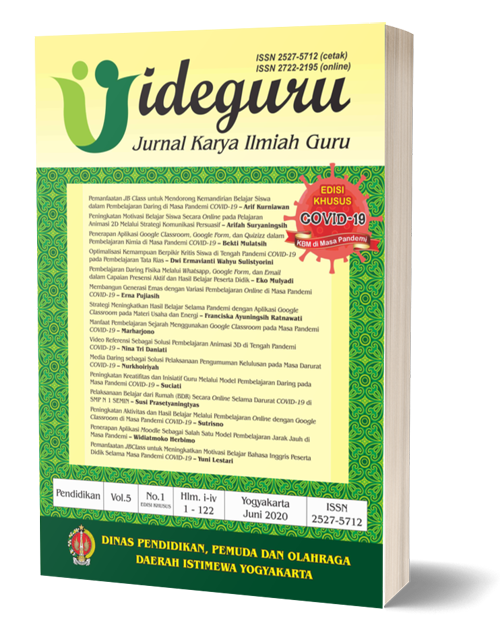 How to Cite:
Daniati, N. T. (2020). REFERENCE VIDEOS AS 3D ANIMATION LEARNING SOLUTIONS IN COVID-19 PANDEMICS. Ideguru: Jurnal Karya Ilmiah Guru, 5(1), 64 -. https://doi.org/10.51169/ideguru.v5i1.128
Copyright (c) 2020 Nina Tri Daniati
This work is licensed under a Creative Commons Attribution 4.0 International License.

Abstract viewed: 1039 times

PDF (Bahasa Indonesia) downloaded: 1172 times