Peningkatan Hasil Belajar Siswa Melalui Pembelajaran Inkuiri Terbimbing pada Materi Kimia Asam Basa
Anisna Erni

SMK Negeri 2 Pandeglang, Banten, Indonesia
Abstract
Classroom action research through guided inquiry learning aims to determine the improvement of student learning outcomes on acid-base chemistry, especially students of class X APL 2 SMKN 2 Pandeglang. The research implementation consists of 5 stages, namely; 1). Engage by oriented question. 2) Evidence 3) Explanation 4) Evaluation 5) Communication. The research was conducted in two cycles and each cycle consisted of 4 stages, which consisted of planning, implementing, observing, and reflecting. Obtaining student data obtained from processing the test scores of learning outcomes and observation sheets. In cycle 1, the learning outcomes data obtained have not shown significant learning outcomes compared to pre-study learning outcomes. The data obtained from the pre-study learning outcomes showed that of the 35 students in class X APL 2 who took the pre-action pre-test, only 22.86% (8 students) of the 35 students, while the learning completeness score in the first cycle reached 34.29% (12 students) of 35 students. The percentage of student activity obtained is 66, 81% with sufficient category. In the second cycle, the KKM achievement value increased to 82.86%. (29 0rang students) from 35 students. The percentage of active learning of students increased by an average of 81% with a very good category, thus the application of Guided Inquiry Learning obtained better learning outcomes and increased active learning of class X students majoring in APL 2 SMK Negeri 2 Pandeglang.
Keywords:
acid base, learning outcomes, guided inquiry
PDF Downloads
Download data is not yet available.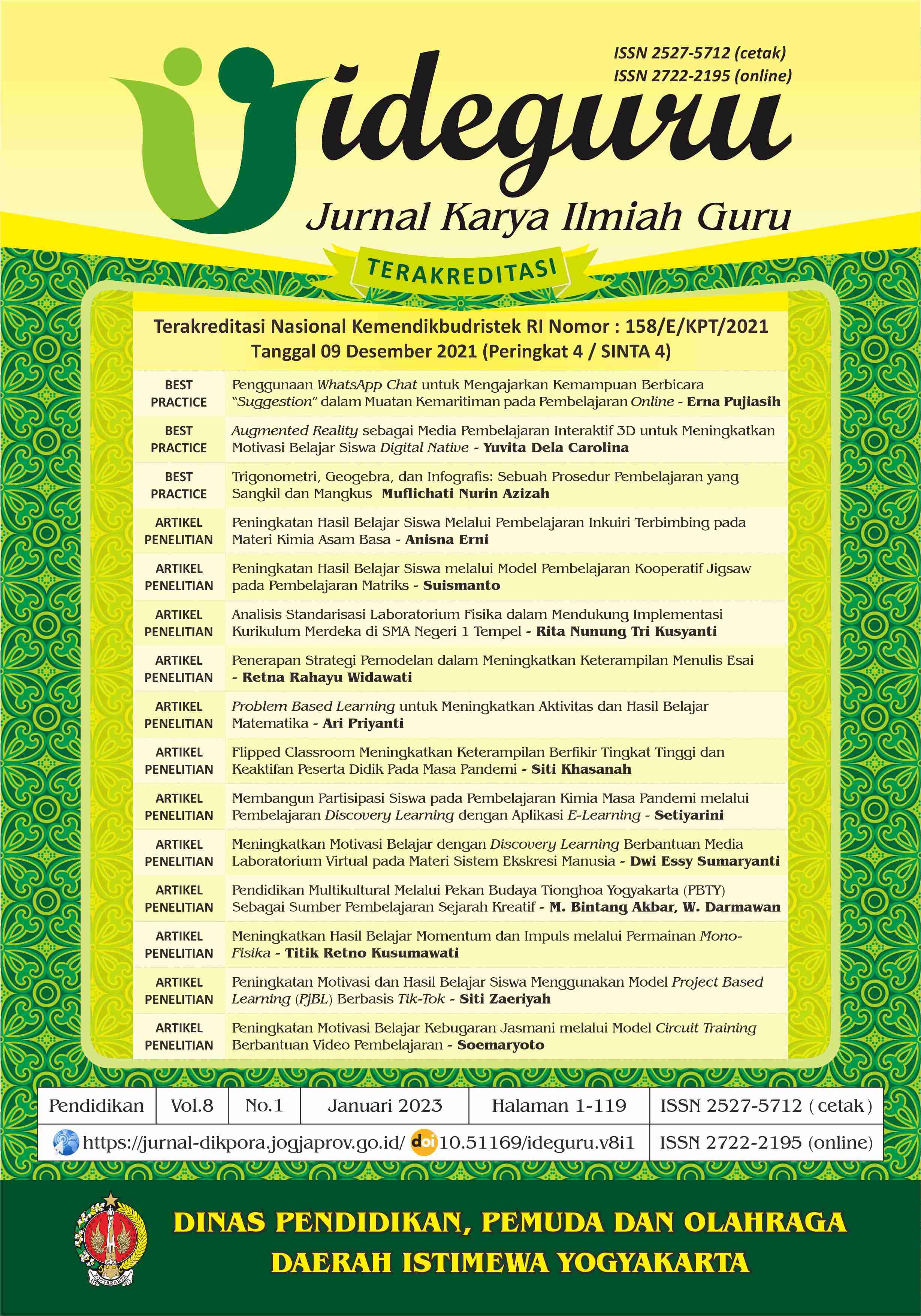 How to Cite:
Erni, A. (2022). Peningkatan Hasil Belajar Siswa Melalui Pembelajaran Inkuiri Terbimbing pada Materi Kimia Asam Basa . Ideguru: Jurnal Karya Ilmiah Guru, 8(1), 25-30. https://doi.org/10.51169/ideguru.v8i1.312
Section
Research Articles
Copyright (c) 2023 Anisna Erni
This work is licensed under a Creative Commons Attribution 4.0 International License.

Abstract viewed: 403 times

PDF (Bahasa Indonesia) downloaded: 300 times