Penerapan Model Problem Based Leaning Berbasis Berdiferensiasi berdasarakan Gaya Belajar Peserta Didik pada Pelajaran Biologi
Uci Minasari

Universitas Sriwijaya, Palembang, Sumatera Selatan, Indonesia

Rahmi Susanti

Universitas Sriwijaya, Palembang, Sumatera Selatan, Indonesia
Abstract
Students are unique individuals so they have different characteristics from one to another. In Class XI IPA 1 Plus SMA Srijaya Negara Palembang, there are very diverse learning styles so that differentiated learning is needed to respond to this diversity so that students can optimize their potential according to their characteristics. The purpose ofbest practicesthis is to find out the impact of implementing differentiated learning on the learning process and how it is applied to Biology class XI IPA 1 Plus SMA Srijaya Negara Palembang. enforceabilitybest practicesThis is known through sources of information from students and Biology subject educators. Modification of lesson plans for Biology based on differentiation based on the diversity of student learning styles. The results of observations of students are more active in learning activities so that the learning outcomes of students are in accordance with the learning objectives. Based on the results of the analysis of the application of differentiated learning has an impact on changing the behavior of students in learning. This can be seen from the participation of participants educate in learning. Thus it can be concluded that the learning model Problem Based Learning(PBL) based on differentiation based on learning styles can be applied in class XI IPA 1 Plus SMA Srijaya Negara Palembang.
Keywords:
PBL, differentiation learning, learning styles, students
PDF Downloads
Download data is not yet available.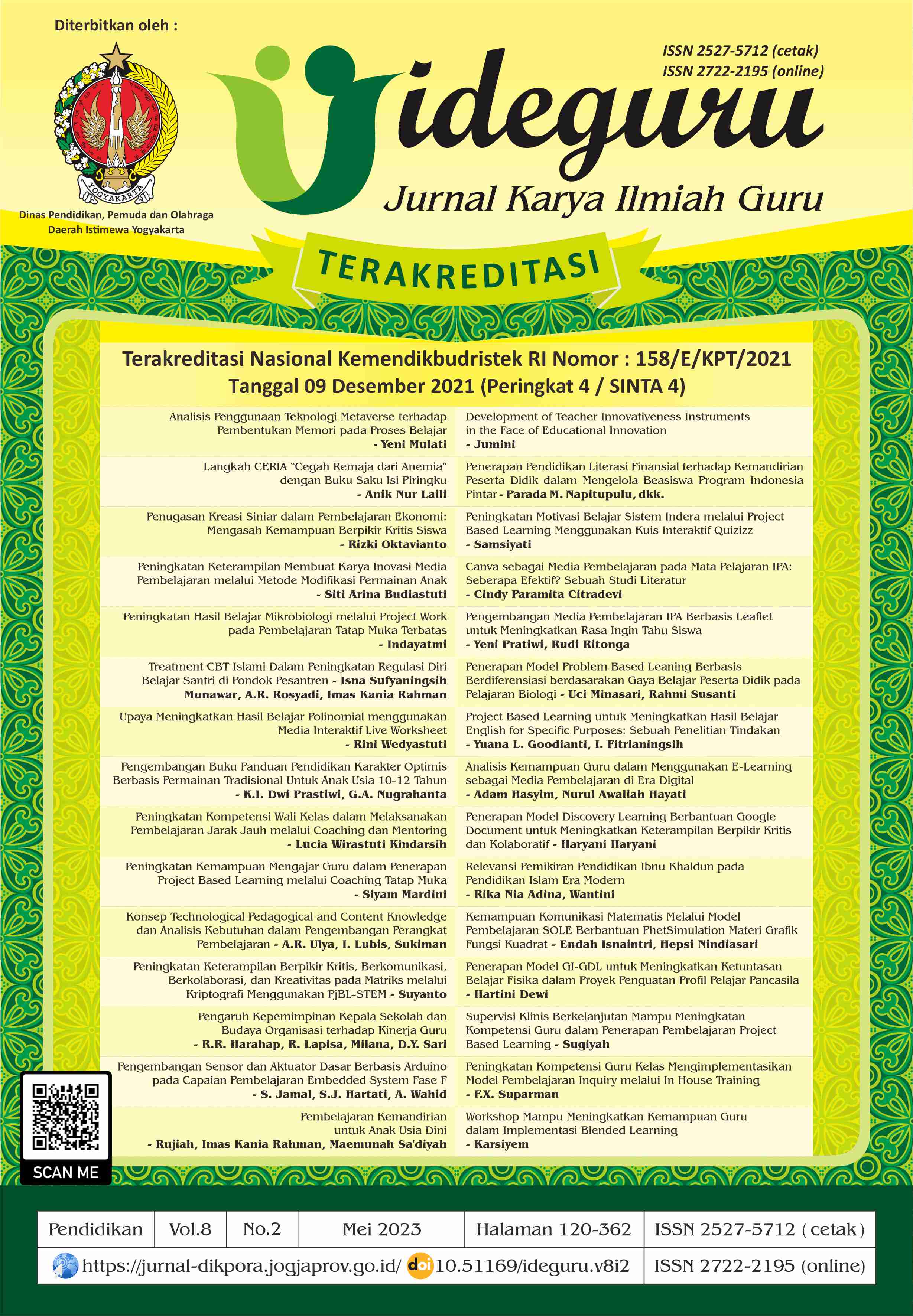 How to Cite:
Minasari, U., & Susanti, R. (2023). Penerapan Model Problem Based Leaning Berbasis Berdiferensiasi berdasarakan Gaya Belajar Peserta Didik pada Pelajaran Biologi. Ideguru: Jurnal Karya Ilmiah Guru, 8(2), 282-287. https://doi.org/10.51169/ideguru.v8i2.543
Copyright (c) 2023 Uci Minasari, Rahmi Susanti
This work is licensed under a Creative Commons Attribution 4.0 International License.

Abstract viewed: 412 times

PDF (Bahasa Indonesia) downloaded: 460 times