Relevansi Pemikiran Pendidikan Ibnu Khaldun pada Pendidikan Islam Era Modern
Rika Nia Adina

SMP Muhammadiyah 2 Yogyakarta, Yogyakarta, Daerah Istimewa Yogyakarta, Indonesia

Wantini Wantini

Universitas Ahmad Dahlan, Daerah Istimewa Yogyakarta, Indonesia
Abstract
This article aims to find out how the relevance of Ibn Khaldun's educational thoughts to Indonesian education today. This article was examined using qualitative methods with a type of library research approach. The sources obtained in this article are through journals, books, and notes related to the problem under study. Based on the results of the research that has been done, it can be interpreted that Ibn Khaldun's educational thinking is still very relevant to Indonesian education today. This can be seen from the concept of goals, methods, educational curricula and the concept of educators put forward by Ibnu Khaldun in line with education in the modern era of Indonesia. One example of how Ibn Khaldun's concept of education is in line with the modern era of education can be seen from his educational goals. The purpose of education put forward by Ibn Khaldun is to create intelligent students by developing reason by seeking knowledge, creating students who have a high democratic and social spirit with social skills and creating students who believe and fear Allah SWT by increasing spirituality. This is in line with the current educational goals.
Keywords:
thought of Ibnu Khaldun, education, modern era
PDF Downloads
Download data is not yet available.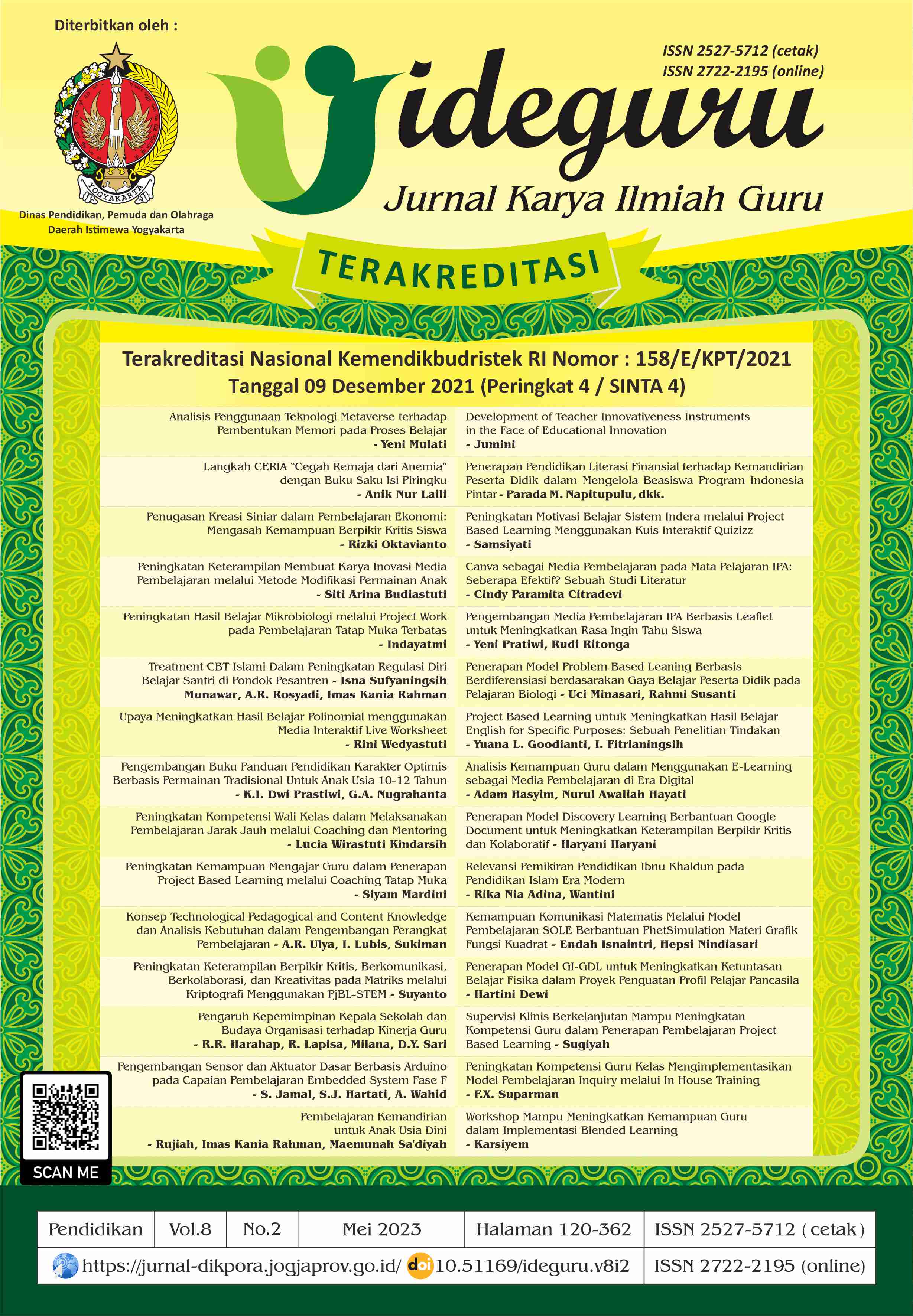 How to Cite:
Adina, R. N., & Wantini, W. (2023). Relevansi Pemikiran Pendidikan Ibnu Khaldun pada Pendidikan Islam Era Modern. Ideguru: Jurnal Karya Ilmiah Guru, 8(2), 312-318. https://doi.org/10.51169/ideguru.v8i2.514
Section
Literature Review
Copyright (c) 2023 Rika Nia Adina
This work is licensed under a Creative Commons Attribution 4.0 International License.

Abstract viewed: 213 times

PDF (Bahasa Indonesia) downloaded: 182 times