Peningkatan Keterampilan Berpikir Kritis, Berkomunikasi, Berkolaborasi, dan Kreativitas pada Matriks melalui Kriptografi Menggunakan PjBL-STEM
Suyanto Suyanto

SMA Negeri 8 Yogyakarta, Yogyakarta, Daerah Istimewa Yogyakarta, Indonesia
Abstract
Assistance in learning helps students achieve results in school as well as transfer learning outcomes to new situations in life. To be able to live competitively they need mastery of critical thinking skills, communication, collaboration, and creativity or 4C. This classroom action research aims to find out how the PjBL-STEM model through the application of Cryptography on the Matrices can improve the 4C skills of students at SMA Negeri 8 Yogyakarta. The research was carried out in two cycles, each consisting of planning, action, observation, and reflection using the PjBL-STEM stages, namely reflection, research, discovery, application, and communication. The matrix is used in the encryption and decryption process. The average students' 4C skills achievement score is 31,88 in cycle I being 35,2 of a maximum score of 36 in cycle II. This research also produced data on the increase in the average achievement of Student Worksheet carried out in groups and individuals, namely 88.85 and 96 in the first cycle and 98.88 and 99.03 in the second cycle. The average achievement of learning outcomes test and classical completeness, respectively, from 86.10 and 91.67% in the first cycle to 91.11 and 100% in the second cycle. The increase in the average percentage of the implementation of the learning process by teacher and students in the cycle I is 96% becomes 100% in cycle II. The average product value achievement in the form of the "Security of Sensitive Information" program is 88,61 and the poster is 84,22. The average achievement in preparing report is 87,65. This research shows that PjBL-STEM can be used to improve students' 4C skills. 
Keywords:
4C Skills, matrices, cryptography, PjBL-STEM
PDF Downloads
Download data is not yet available.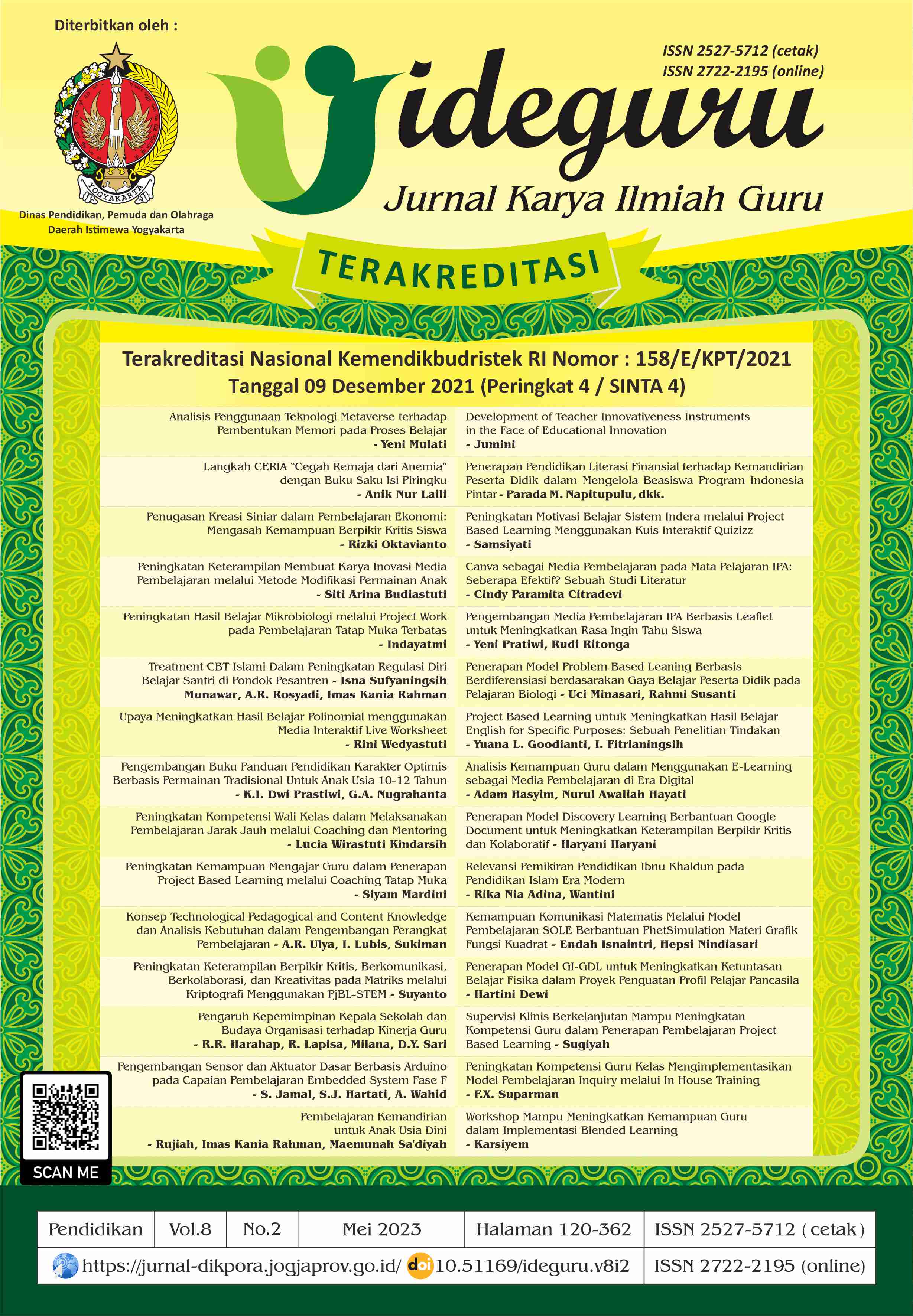 How to Cite:
Suyanto, S. (2023). Peningkatan Keterampilan Berpikir Kritis, Berkomunikasi, Berkolaborasi, dan Kreativitas pada Matriks melalui Kriptografi Menggunakan PjBL-STEM. Ideguru: Jurnal Karya Ilmiah Guru, 8(2), 216-225. https://doi.org/10.51169/ideguru.v8i2.503
Section
Research Articles
Copyright (c) 2023 Suyanto
This work is licensed under a Creative Commons Attribution 4.0 International License.

Abstract viewed: 230 times

PDF (Bahasa Indonesia) downloaded: 138 times