Konsep Technological Pedagogical and Content Knowledge dan Analisis Kebutuhan dalam Pengembangan Perangkat Pembelajaran
Alfi Rahmatin Ulya

UIN Sunan Kalijaga, Yogyakarta, Daerah Istimewa Yogyakarta, Indonesia

Isnaini Lubis

UIN Sunan Kalijaga, Yogyakarta, Daerah Istimewa Yogyakarta, Indonesia

Sukiman Sukiman

UIN Sunan Kalijaga, Yogyakarta, Daerah Istimewa Yogyakarta, Indonesia
Abstract
The challenges of world development, especially in the implementation of learning, are increasingly demanding the availability of human resouces who master science and technology. Technological Pedagogical Content Knowledge can be an alternative to be used as a reference for educators to develop learning with new, better models. The purpose of this article is to provide an overview of the TPACK concept and introduce the concept of needs analysis in the application of TPACK. The research approach employed was descriptive qualitative, utilizing data gathering strategies such as observation and documenting. The study's findings show that TPACK is a framework for teachers in assembling a learning design. This TPACK design combines three core aspect, there are technology, pedagogy and content knowledge. The readliness of the world of edication in facing the challenges of world development, one of which is shrewdly using technology as a medium and source of learning. The implementation of TPACK work can be done by first conducting a needs analysis process so that all components in it can be relevant to the needs and characteristics of students. The findings of this article can be used as a starting point for further research development of learning tools in 4.0 era. Various studies both related to TPACK show that this knowledge is important for development of professional skills of teachers and prospective teachers.  From this research, researcher found that one of the needs in developing learning tools is the teachers ability to know the concept of TPACK (Technological Pedagogical Content and Knowledge).
Keywords:
TPACK, need analysis, learning tools
PDF Downloads
Download data is not yet available.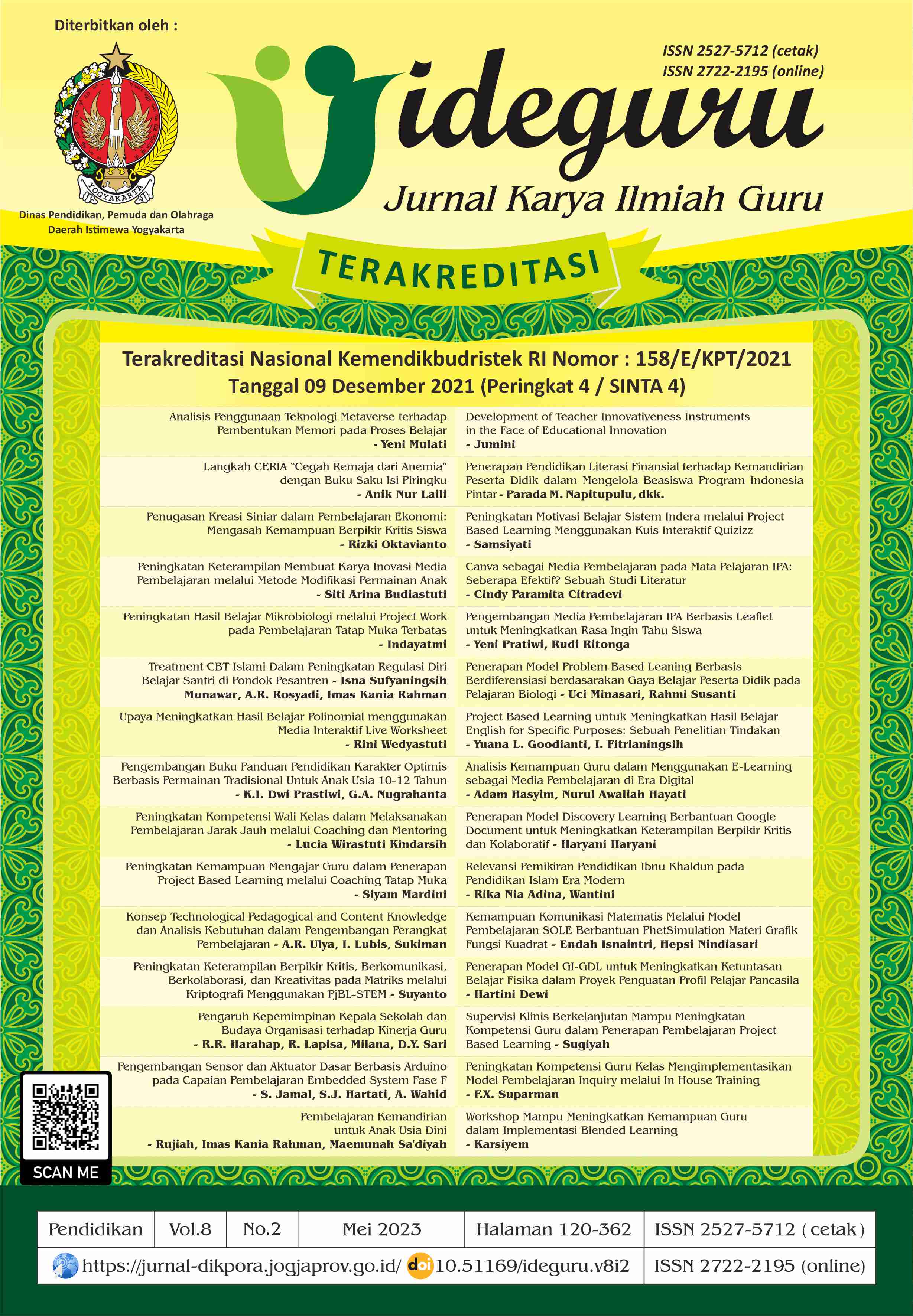 How to Cite:
Ulya, A. R., Lubis, I., & Sukiman, S. (2023). Konsep Technological Pedagogical and Content Knowledge dan Analisis Kebutuhan dalam Pengembangan Perangkat Pembelajaran. Ideguru: Jurnal Karya Ilmiah Guru, 8(2), 208-215. https://doi.org/10.51169/ideguru.v8i2.501
Section
Research Articles
Copyright (c) 2023 Alfi Rahmatin Ulya, Isnaini Lubis, Sukiman
This work is licensed under a Creative Commons Attribution 4.0 International License.

Abstract viewed: 184 times

PDF (Bahasa Indonesia) downloaded: 139 times