Analisis Penggunaan Teknologi Metaverse terhadap Pembentukan Memori pada Proses Belajar
Yeni Mulati

Universitas Muhammadiyah Surakarta, Sukoharjo, Jawa Tengah, Indonesia
Abstract
The Covid-19 pandemic has forced the government and the public to organize online learning. Even though the pandemic is starting to subside, it does not mean that society is free from threats. In addition to anticipating the pandemic, online learning can still be done to complement offline learning. The use of metaverse technology in the learning process is one of the important breakthroughs to deliver higher-quality online learning. There are four types of simulations in metaverse technology, namely augmented reality, lifelogging, mirror world, and virtual reality. This paper aims to analyze whether the patterns and methods of learning that might be done using metaverse technology are effective enough for the memory formation process in students. The method used is a literature study from various books, articles, and relevant research. From the results of the analysis, if applied in the learning process, metaverse technology is predicted to be able to increase association, elaboration, and imagination in the encoding process, but it is very likely to cause attention disorders, cause problems in the process of forming self-identity and can lead to various kinds of social problems and online game addiction.
Keywords:
learning, encoding, metaverse, self-identity, game-online addiction
PDF Downloads
Download data is not yet available.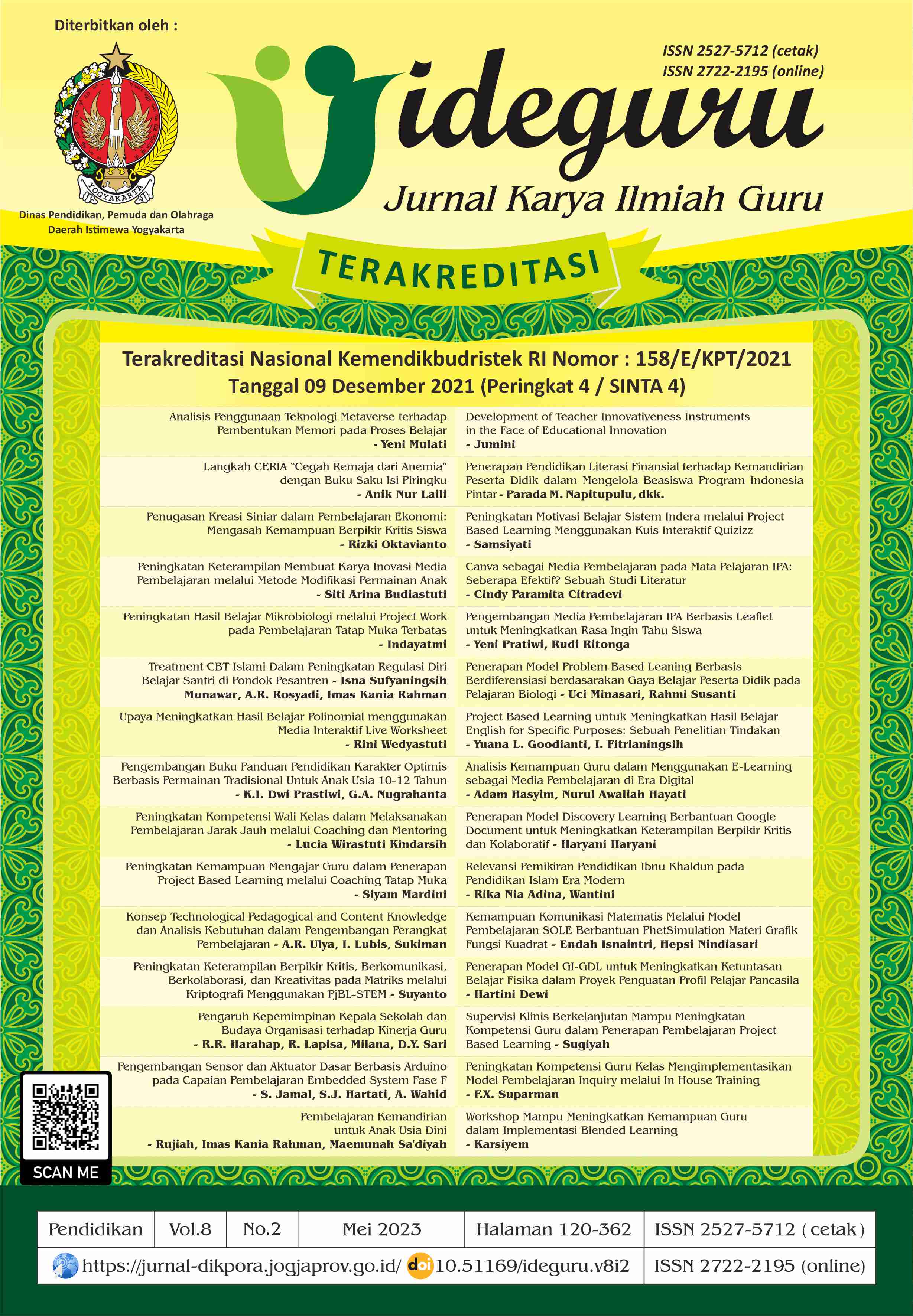 How to Cite:
Mulati, Y. (2022). Analisis Penggunaan Teknologi Metaverse terhadap Pembentukan Memori pada Proses Belajar. Ideguru: Jurnal Karya Ilmiah Guru, 8(2), 120-128. https://doi.org/10.51169/ideguru.v8i2.480
Section
Literature Review
Copyright (c) 2023 Yeni Mulati
This work is licensed under a Creative Commons Attribution 4.0 International License.

Abstract viewed: 1971 times

PDF (Bahasa Indonesia) downloaded: 1553 times