Penugasan Kreasi Siniar dalam Pembelajaran Ekonomi: Mengasah Kemampuan Berpikir Kritis Siswa
Rizki Oktavianto

SMA Negeri 1 Bantul, Bantul, Daerah Istimewa Yogyakarta, Indonesia
Abstract
The best practice writing aims to determine the contribution of the podcast creations in economics learning to sharpen the critical thinking skills of students in class XI IPS 1 SMAN 1 Bantul. The approach used in writing best practice is descriptive qualitative. The author describes his best experience in his efforts to hone students' critical thinking skills through presentation creation assignments. The best practice subjects are students of class XI IPS 1 at SMAN 1 Bantul Semester 1 of the 2022/2023 academic year, a total of 36 students who are studying the Economics chapter of Employment. It used primary data obtained by distributing questionnaires using google forms and podcast product assessments conducted by teachers. Technical data analysis is done by reducing the data that has been obtained from the questionnaire and assessment, presenting the data in qualitative and quantitative data, and drawing conclusions. The results showed that the assignment of siniar creations was that as many as 96.9% of respondents said they liked the assignment of podcast creations, 100% said they were able to formulate the main points of the problem, 97% were able to reveal the facts, 100% were able to choose logical arguments in making podcasts, 98% were able to detect bias with different points of view, 100% were able to provide conclusions related to the topic. In addition, from the results of the assessment by the teacher, it was found that all students had been able to produce satirical works with good audio quality and 83.3% had been able to produce satirical works with the support of analytical sharpness as well as the right data and facts. Thus, the assignment of broadcast creations can be sharpen students' critical thinking skills.
Keywords:
critical thinking abillity, podcast creation, economics learning
PDF Downloads
Download data is not yet available.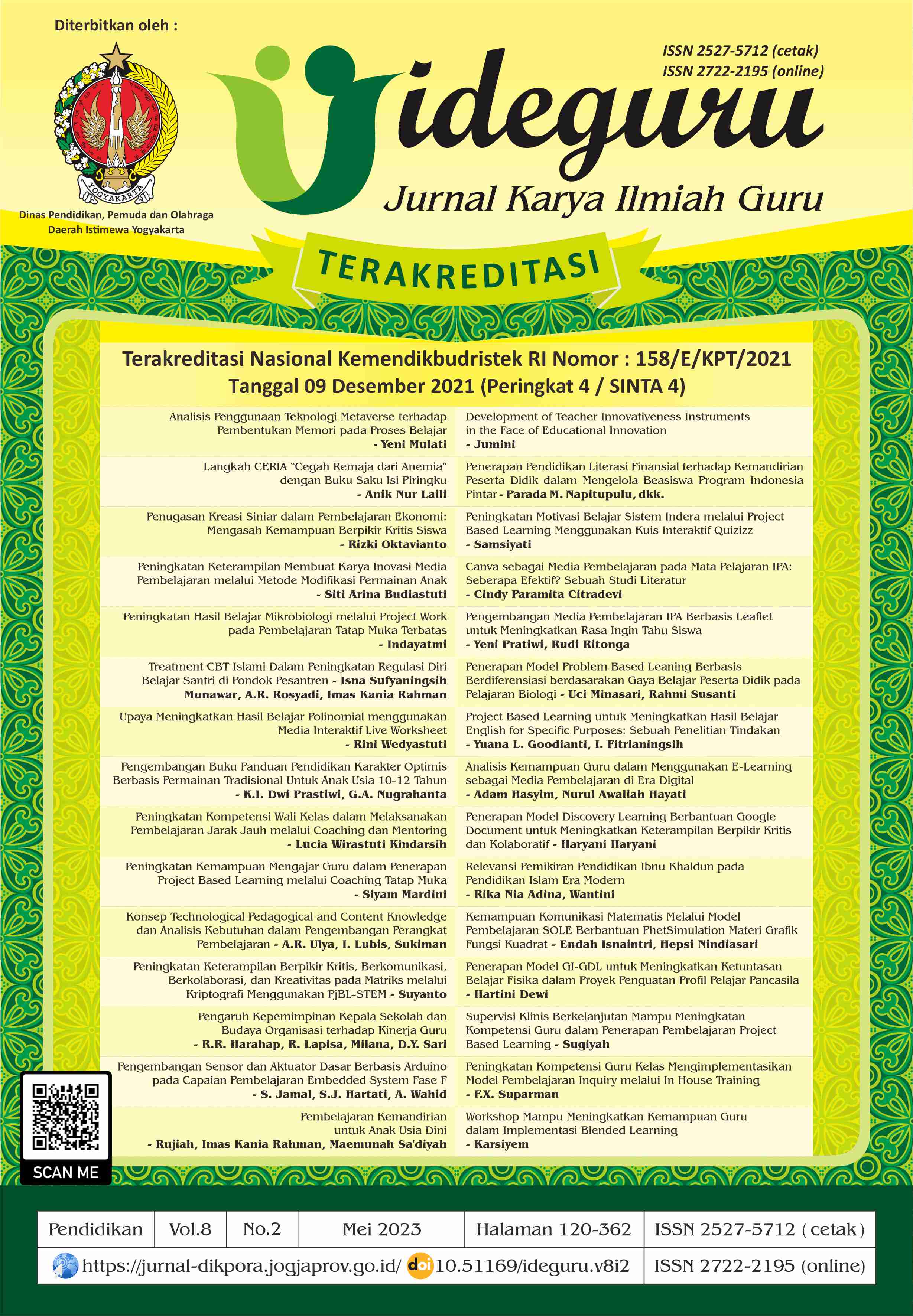 How to Cite:
Oktavianto, R. (2022). Penugasan Kreasi Siniar dalam Pembelajaran Ekonomi: Mengasah Kemampuan Berpikir Kritis Siswa. Ideguru: Jurnal Karya Ilmiah Guru, 8(2), 137-145. https://doi.org/10.51169/ideguru.v8i2.474
Copyright (c) 2023 Rizki Oktavianto
This work is licensed under a Creative Commons Attribution 4.0 International License.

Abstract viewed: 239 times

PDF (Bahasa Indonesia) downloaded: 261 times