Peningkatan Motivasi Belajar Sistem Indera melalui Project Based Learning Menggunakan Kuis Interaktif Quizizz
Samsiyati Samsiyati

SMA Negeri 5 Yogyakarta, Yogyakarta, Daerah Istimewa Yogyakarta, Indonesia
Abstract
This study aims to increase motivation to learn the concept of the sensory system through Project Based Learning (PjBL) using the Quizizz interactive quiz in class XI MIPA 1 SMA Negeri 5 Yogykarta in the 2020/2021 academic year. The type of research is Classroom Action Research (CAR) which is carried out in 2 cycles. Each cycle consists of the stages of planning, implementing, observing and reflecting. Data collection techniques used are observation, interviews, documentation, and product assessment techniques in the form of making Quizizz interactive quizzes. The results of data analysis are compared based on success indicators and conclusions are drawn. The results showed an increase in motivation from the first cycle with an average achievement of 72,08 with high interpretation increasing in the second cycle. to 82,58 with a very high interpretation. This increase in value is also seen in the average value based on each aspect of motivational achievement. In the first cycle there are still 3 aspects whose average score is below 75, while in the second cycle all the scores have been completed per aspect. In addition, there is also an increase in the achievement of student product results, in the first cycle of 77,98% increasing significantly to 88,69% in the second cycle. This result exceeds the success indicator, that is, if all students who get a completeness limit score of 75 at least reach 85%. Based on these results, it can be concluded that the PjBL model using quizizz interactive quizzes can increase the motivation of students in class XI MIPA 1 SMA Negeri 5 Yogyakarta.
Keywords:
project based learning, sense system, quizizz
PDF Downloads
Download data is not yet available.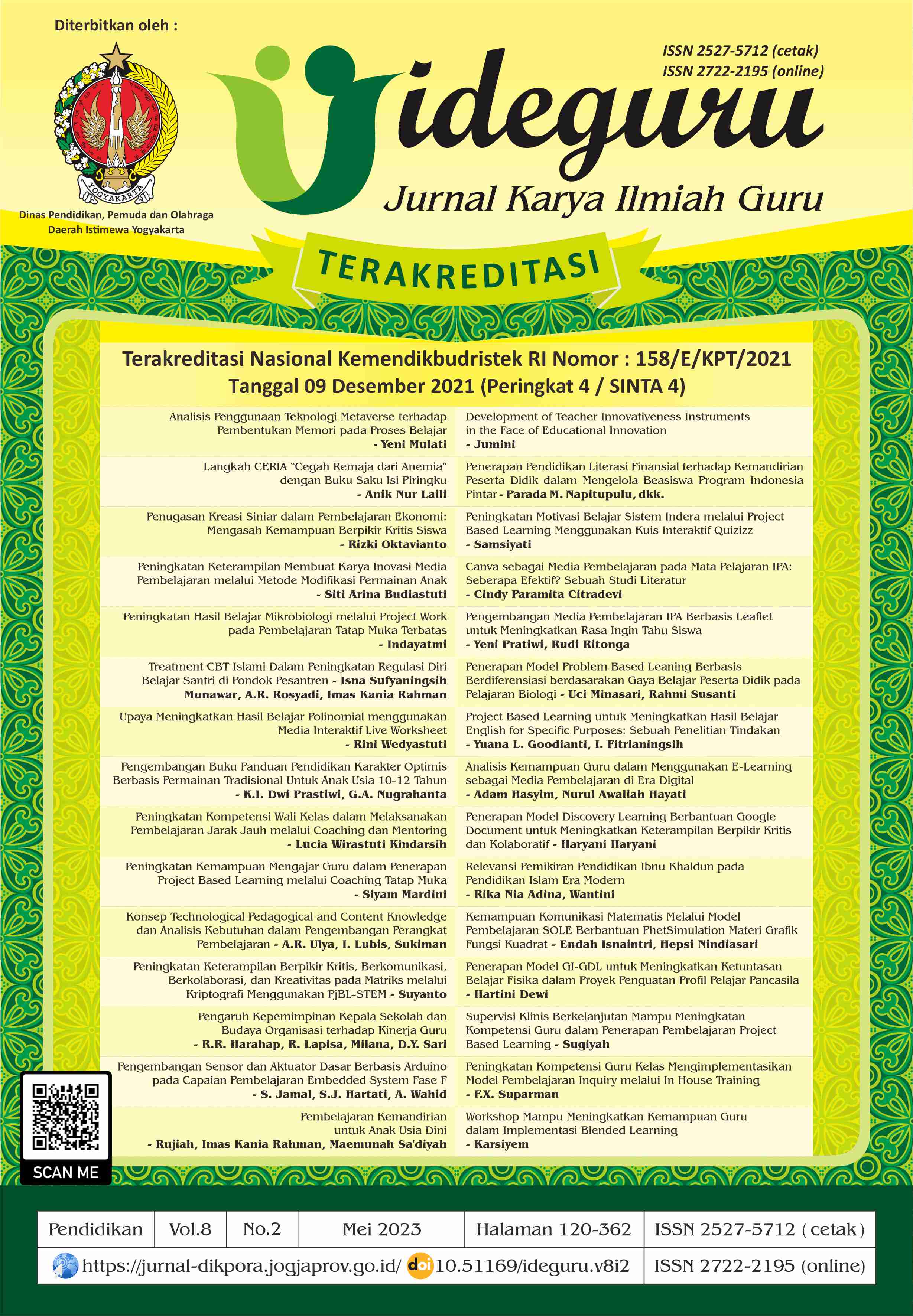 How to Cite:
Samsiyati, S. (2023). Peningkatan Motivasi Belajar Sistem Indera melalui Project Based Learning Menggunakan Kuis Interaktif Quizizz. Ideguru: Jurnal Karya Ilmiah Guru, 8(2), 263-269. https://doi.org/10.51169/ideguru.v8i2.462
Section
Research Articles
Copyright (c) 2023 Samsiyati
This work is licensed under a Creative Commons Attribution 4.0 International License.

Abstract viewed: 165 times

PDF (Bahasa Indonesia) downloaded: 161 times