Implementasi Pembelajaran Bermakna dengan Materi Menentukan Status Gizi pada Pembelajaran Daring Ilmu Gizi
Heni Purwanti

SMK Negeri 4 Yogyakarta, Yogyakarta, Daerah Istimewa Yogyakarta, Indonesia

Nani Nurwati

SMK Negeri 4 Yogyakarta, Yogyakarta, Daerah Istimewa Yogyakarta, Indonesia
Abstract
Meaningful learning is one of the learning innovations that are expected to suppress boredom in students. The purpose of this study is to implement meaningful learning using online media in the learning of Nutrition Science class X Culinary 1 at SMK Negeri 4 Yogyakarta, with the material determining the nutritional status of adolescents. In learning Nutrition, determining nutritional status is one of the materials studied to identify body conditions, especially the individual body conditions of students. The meaningful learning that was carried out this time was to determine the nutritional status of students by calculating BMI online. Based on observations of the learning process, it shows that when meaningful learning takes place, at the beginning of learning students seem less enthusiastic about participating in learning, as evidenced by the lack of question and answer activities through WhatsApp groups. The enthusiasm of the new students was seen when students were given the task of weighing their bodies and measuring their heights and when they were doing the task of calculating BMI and determining their respective nutritional status. Some students responded by asking questions via WhatsApp groups, even some students looked restless when they found out the nutritional status of being underweight or overweight. The lesson ended with the collection of student assignments with good results and on time.
Keywords:
body mass index, meaningful learning, nutritional status
PDF Downloads
Download data is not yet available.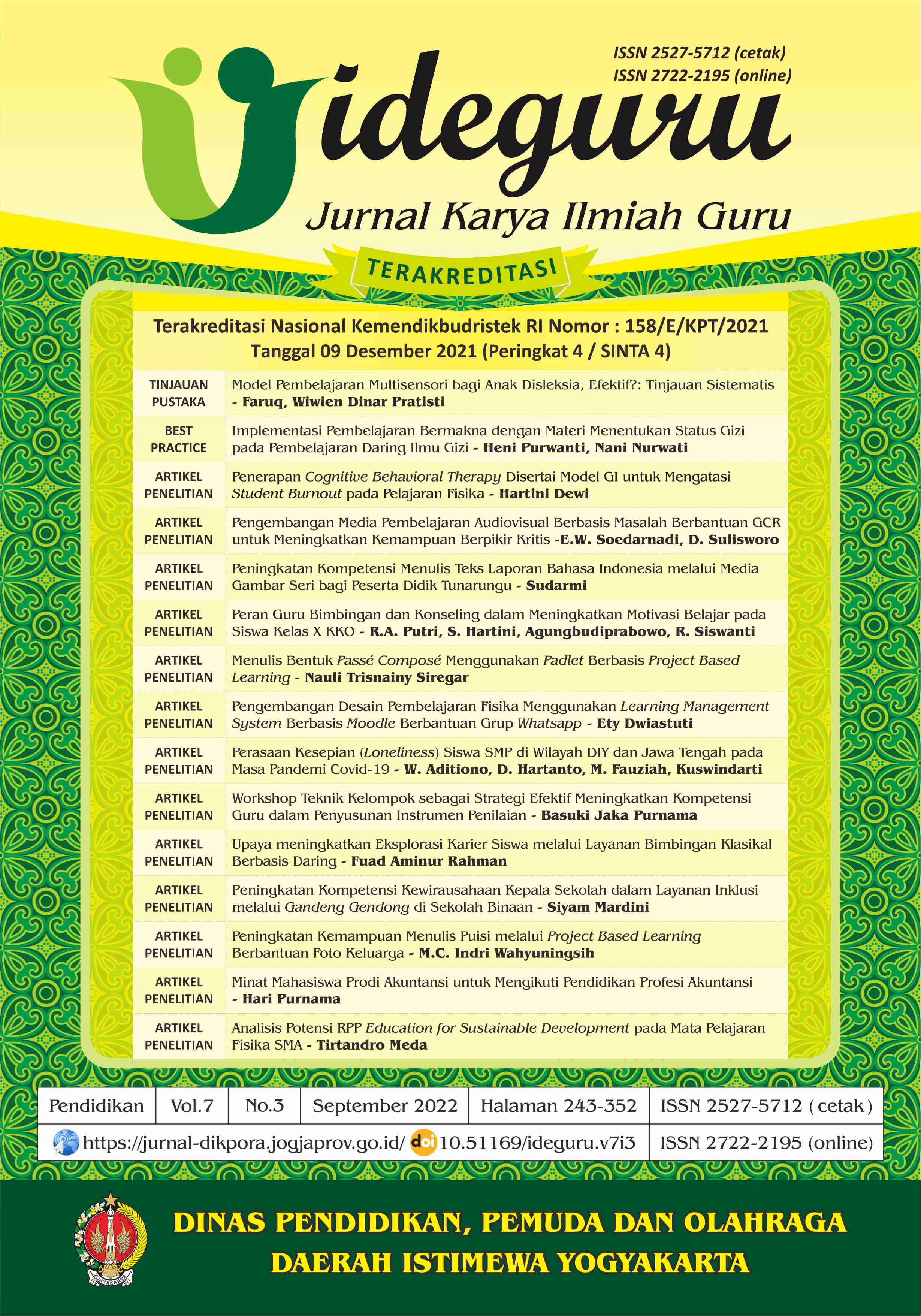 How to Cite:
Purwanti, H., & Nurwati, N. (2022). Implementasi Pembelajaran Bermakna dengan Materi Menentukan Status Gizi pada Pembelajaran Daring Ilmu Gizi . Ideguru: Jurnal Karya Ilmiah Guru, 7(3), 249-257. https://doi.org/10.51169/ideguru.v7i3.377
Copyright (c) 2022 Heni Purwanti, Nani Nurwati
This work is licensed under a Creative Commons Attribution 4.0 International License.

Abstract viewed: 347 times

PDF (Bahasa Indonesia) downloaded: 242 times