Penggunaan WhatsApp Chat untuk Mengajarkan Kemampuan Berbicara "Suggestion" dalam Muatan Kemaritiman pada Pembelajaran Online
Erna Pujiasih

SMA Negeri 1 Bantul, Bantul, Daerah Istimewa Yogyakarta, Indonesia
Abstract
This study aims to obtain effective and efficient online learning activity so that students do not feel bored in learning during  the COVID 19 pandemic. This article is a best practice which was conducted in the 1st semester, 2021-2022 academic year. The method in this study using qualitative descriptive. The subjects were the eleventh grade students of SMA N 1 Bantul which consists of 5 classes. The students can realize the importance of maintaining maritime. Indonesia is as an archipelagic country which consists of two-thirds of the ocean. Therefore, teachers in teaching English needs a strategy to foster a caring attitude towards maritime. Model of online learning aims to apply student speaking skills in the expression of "suggestion" about maritime with WhatsApp Chat. This learning strategy do by virtual online learning, creativity in writing dialog of expression  "suggestion" in pairs, and online presentation experience with Video Call. The result of research is obtain based on questionnaire data of 187 students. It was found that 53% of students felt happy with the learning process, 24% could understand the material easily, 18 % felt learning activity effective and practical, and 5% felt to get variation, creativity, and experience. Finally, the online learning model by creating dialog of expression "suggestion" with WhatsApp Chat and presentation with Video Call are effective, efficient, varied, interesting and students can understand the material easily.
Keywords:
online learning, variation, maritime, suggestion, whatsapp chat
PDF Downloads
Download data is not yet available.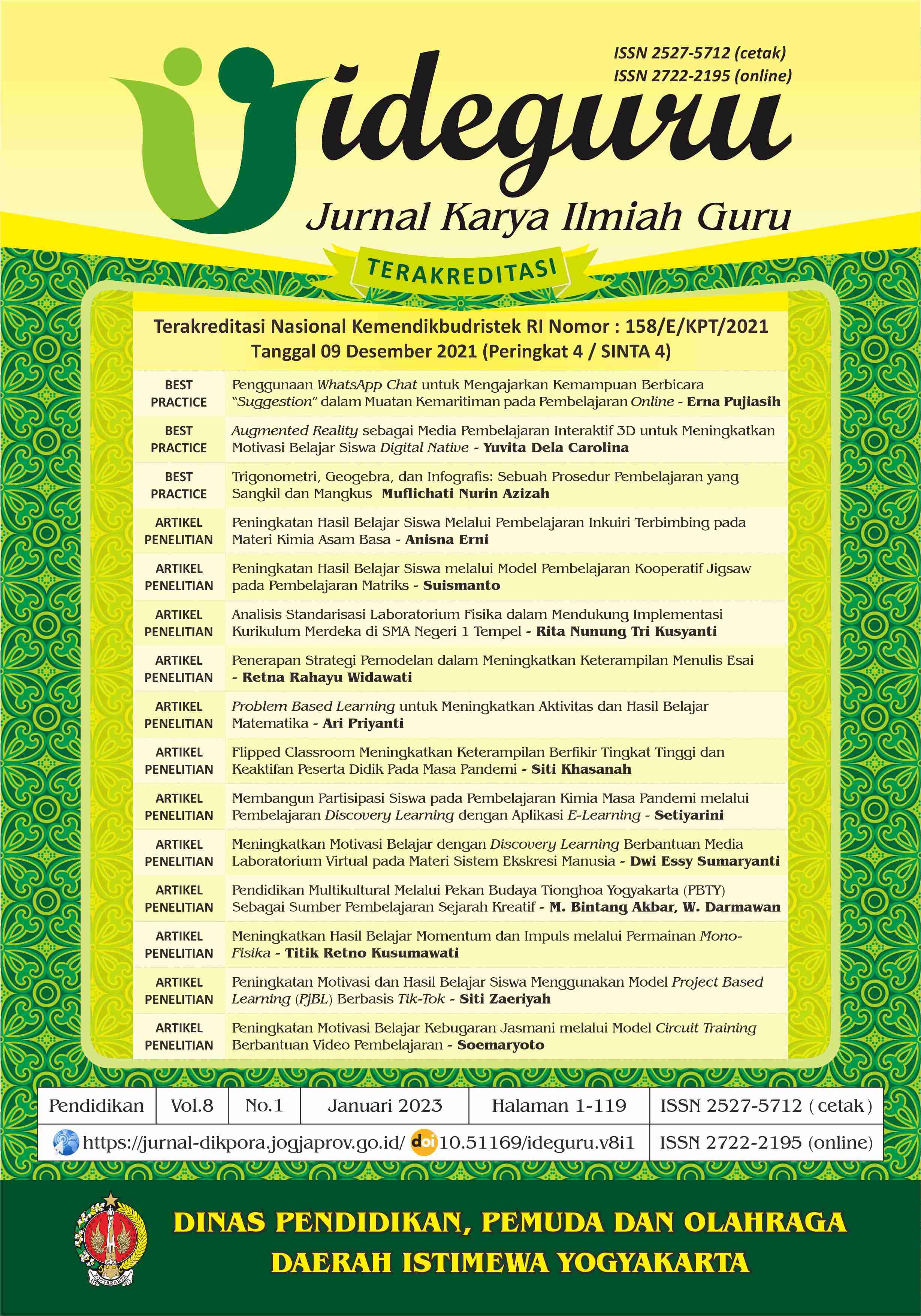 How to Cite:
Pujiasih, E. (2022). Penggunaan WhatsApp Chat untuk Mengajarkan Kemampuan Berbicara "Suggestion" dalam Muatan Kemaritiman pada Pembelajaran Online. Ideguru: Jurnal Karya Ilmiah Guru, 8(1), 1-9. https://doi.org/10.51169/ideguru.v8i1.355
Copyright (c) 2023 Erna Pujiasih
This work is licensed under a Creative Commons Attribution 4.0 International License.

Abstract viewed: 302 times

PDF (Bahasa Indonesia) downloaded: 238 times