Peningkatan Kompetensi Wali Kelas dalam Melaksanakan Pembelajaran Jarak Jauh melalui Coaching dan Mentoring
Lucia Wirastuti Kindarsih

SMA Negeri 2 Yogyakarta, Yogyakarta, Daerah Istimewa Yogyakarta, Indonesia
Abstract
This study aims to 1) describe the stages of coaching and mentoring to improve the competence of homeroom teachers in implementing distance learning; 2) know the increase of the competence of homeroom teachers in carrying out distance learning. The type of research is School Action Research (PTS) with the Kemmis and Taggart models covering the planning, action, observation, and reflection stages. The research subjects were 27 homeroom teachers at SMA N 2 Yogyakarta. School Action Research (PTS) was completed in 2 action cycles. Action cycle 1 was carried out in January - February 2021, while action cycle 2 was carried out in March - April 2021. Coaching and mentoring actions were carried out through actions 1) Evaluation of distance learning (PJJ) in parallel, 2) Guidance for PJJ per class, 3) Completion of report cards, and 4) Calling parents of students who have not completed PJJ in odd semesters. The results of the study obtained data on increasing the competence of homeroom teachers in implementing distance learning. The distance learning evaluation indicator increased by 10.42 points, from 72.91% to 83.33%. The PJJ guidance indicator per class increased by 14.96 points, from 72.08% to 87.04%. The report card completion indicator increased by 29.17 points, from 70.83% to 100%. The indicator for calling students' parents increased by 11.23 points, from 73.96% to 85.19%. The number of students who actively participated in distance learning had increased from 87.11% in cycle 1 to 100% in cycle 2. Coaching and mentoring actions improve the quality of distance learning significantly. This is inseparable from the discipline of subject teachers in receiving coaching and mentoring treatment.
Keywords:
coaching, mentoring, competence, distance learning
PDF Downloads
Download data is not yet available.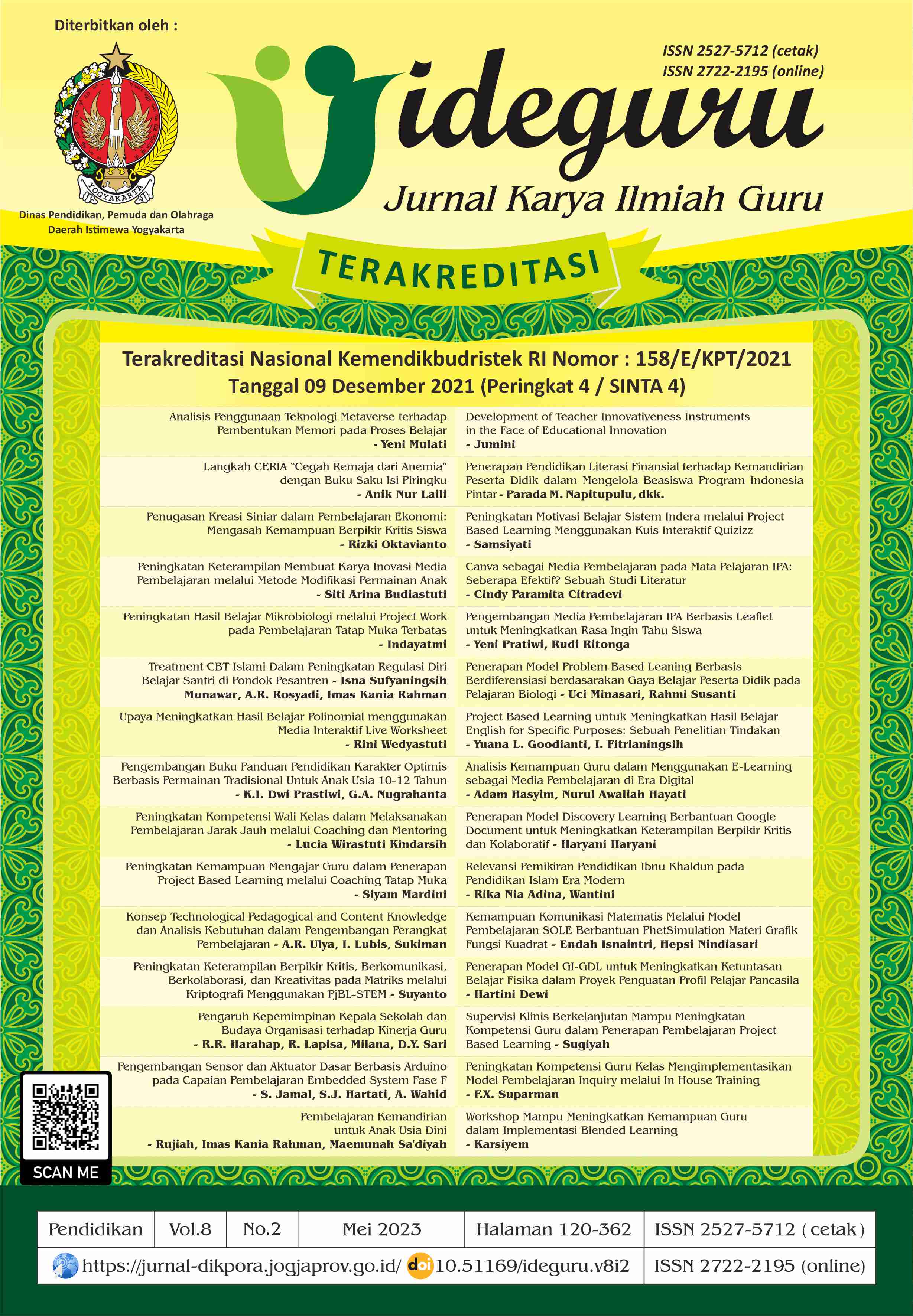 How to Cite:
Kindarsih, L. W. (2023). Peningkatan Kompetensi Wali Kelas dalam Melaksanakan Pembelajaran Jarak Jauh melalui Coaching dan Mentoring . Ideguru: Jurnal Karya Ilmiah Guru, 8(2), 189-198. https://doi.org/10.51169/ideguru.v8i2.323
Section
Research Articles
Copyright (c) 2023 Lucia Wirastuti Kindarsih
This work is licensed under a Creative Commons Attribution 4.0 International License.

Abstract viewed: 139 times

PDF (Bahasa Indonesia) downloaded: 104 times