BAIIK Services as a BKK Strategy to Increase Alumni Absorption in the Working World
Muis Lidinilah

SMK Negeri 2 Sukoharjo, Jawa Tengah, Indonesia
Abstract
One measure of the success of Vocational High School Education is seen from the high number of placements in the working world for school graduates. However, currently there is a growing issue in the community, that SMK is the biggest contributor to the unemployment rate in Indonesia. Some of the problems faced by job candidates include: lack of practice in doing psychological test questions, difficulty in making job application files, curriculum vitae, lack of confidence during interviews and failure during medical check-ups, as well as several problems outside of the job candidates. This encourages the author to work with the public relations team to work hard to make breakthroughs in order to increase work absorption. The BAIIK Service Strategy (Active Guidance Sincere Informative Cooperative) which has been implemented by the author since 2016 until now aims to increase the absorption of alumni in the working world. Suggestions from the author to schools, especially the Deputy Head of Public Relations, so that this service is carried out continuously, members of the public relations team are added and want to work pro-actively and care for job candidates. In addition, job candidates must study hard, practice in various ways in order to improve their competence so that they can compete with other school alumni.
Keywords:
BAIIK (Active Guidance Sincere Informative Cooperative), Canaker, psychological test, curriculum vitae, interview, medical check up
PDF Downloads
Download data is not yet available.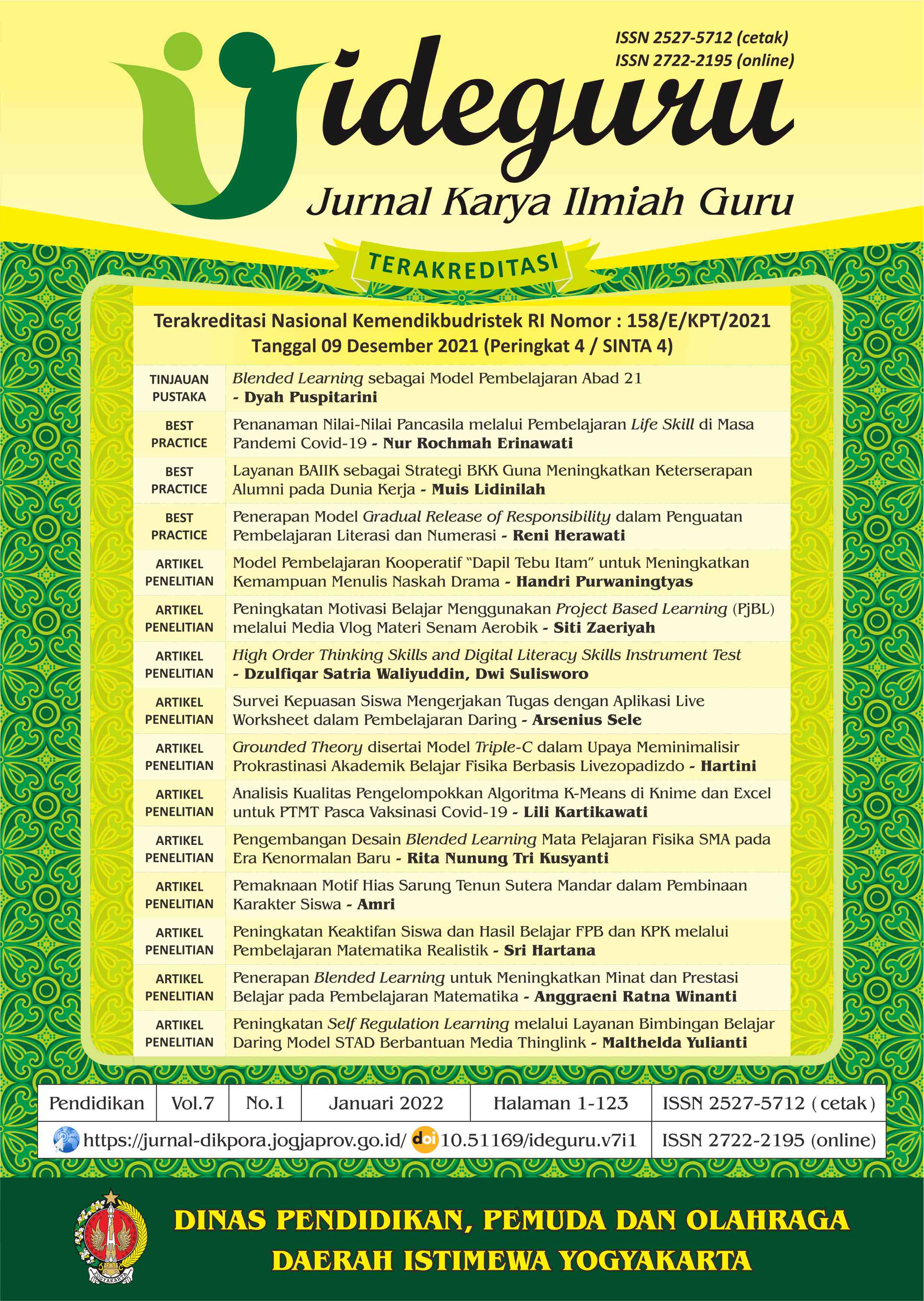 How to Cite:
Lidinilah, M. (2022). BAIIK Services as a BKK Strategy to Increase Alumni Absorption in the Working World. Ideguru: Jurnal Karya Ilmiah Guru, 7(1), 13-21. https://doi.org/10.51169/ideguru.v7i1.309
Copyright (c) 2022 Muis Lidinilah
This work is licensed under a Creative Commons Attribution 4.0 International License.

Abstract viewed: 255 times

PDF (Bahasa Indonesia) downloaded: 406 times