The Impact Of Blended Learning Method Employing Google Classroom On The Improvement Of Student Learning Achievement On The Topic Of Matrix In Class XI IPS 1 SMA Negeri 7 Yogyakarta
Maria Ernawati Millatana

SMA Negeri 7 Yogyakarta, Indonesia
Abstract
This research aims (1) to explain the process of  mixed learning model application using google google classroom to increase student achievement in class  XI IPS 1 di SMA Negeri 7 Yogyakarta and (2) to improve learning achievement of students in class XI IPS 1 di SMA Negeri 7 Yogyakarta by employing mixed learning model with google classroom. The research is a class action research in which research subjects are 24 students in class XI IPS 1 SMA Negeri 7 Yogyakarta. Students achievement is collected through observation process and learning result test.  Data is analyzed qualitatively to portrait the improvement of student performance in each cycle.  The data on the completeness of learning resul is analyzed based on Minimal score (KKM). The total percentage of completeness is also calculated.  The research findings demonstrate that (1) the application process of mixed learning model employing google classroom consists of three phases, namely designing the research, the implementation of class action research and evaluation of the whole process. The last phase is also called reflection in which teacher thinks about all steps of research and formulate some actions to improve shortcomings of the research. (2) The impact of mixed learning method using google class room on student achievement is positive.  Student achievement has been improved as demonstrated by learning result test in each cycle. The total percentage of completeness of student is 83 %.
Keywords:
blended learning, google classroom, student achievements
PDF Downloads
Download data is not yet available.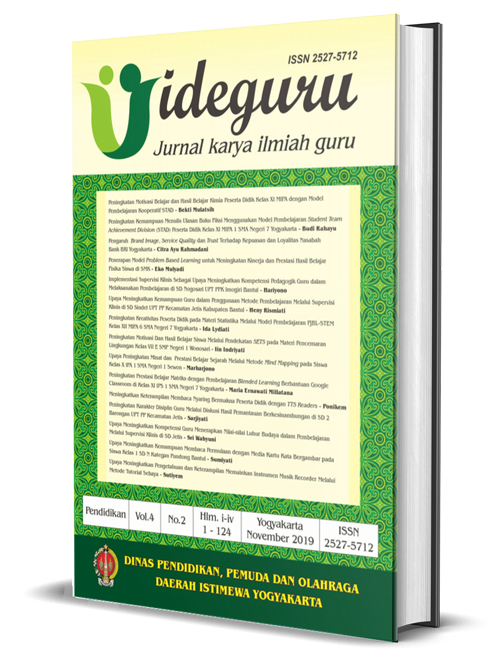 How to Cite:
Millatana, M. E. (2019). The Impact Of Blended Learning Method Employing Google Classroom On The Improvement Of Student Learning Achievement On The Topic Of Matrix In Class XI IPS 1 SMA Negeri 7 Yogyakarta. Ideguru: Jurnal Karya Ilmiah Guru, 4(2), 76-85. https://doi.org/10.51169/ideguru.v4i2.97
Section
Research Articles

Abstract viewed: 493 times

PDF (Bahasa Indonesia) downloaded: 1096 times