UPAYA PENINGKATAN KREATIVITAS, DAN HASIL BELAJAR SOSIOLOGI MELALUI MODEL PBL
Imelda Agustini Trihatmi

SMA Negeri 1 Sewon, Indonesia
Abstract
The purpose of this study was to determine the improvement of learning creativity and learning outcomes of Sociology subject among XI IPS students at SMAN 1 Sewon by using the Problem Based Learning model. This study used classroom action research. The learning creativity data were collected by using observation sheets, and the learning outcomes was gained from tests in sociology subject. The data analysis method was qualitative descriptive. The study results showed there was an increase in the student creativity from 9.68% in the pre-cycle, to 41.93% in the first cycle, and then became 78.42% in the second cycle. The achievement of student learning outcomes in the pre cycle was 29.03%, in the first cycle was 77.42%, then in the second cycle was 83.87%. Students who reach the completeness level in the pre cycle were 9 students. It was increased to 24 students in the first cycle, and then became 26 students after second cycle.
Keywords:
problem based learning, learning creativity, sociology, student learning outcomes
PDF Downloads
Download data is not yet available.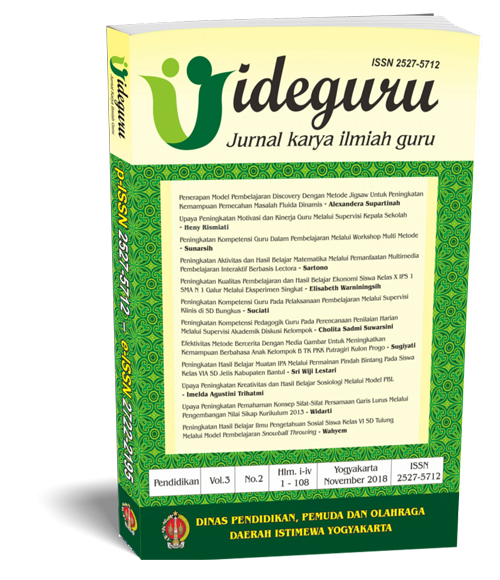 How to Cite:
Imelda Agustini Trihatmi. (2018). UPAYA PENINGKATAN KREATIVITAS, DAN HASIL BELAJAR SOSIOLOGI MELALUI MODEL PBL . Ideguru: Jurnal Karya Ilmiah Guru, 3(2), 81-86. Retrieved from https://jurnal-dikpora.jogjaprov.go.id/index.php/jurnalideguru/article/view/59
Section
Research Articles

Abstract viewed: 74 times

PDF (Bahasa Indonesia) downloaded: 215 times