EFEKTIVITAS METODE BERCERITA DENGAN MEDIA GAMBAR UNTUK MENINGKATKAN KEMAMPUAN BERBAHASA ANAK KELOMPOK B TK PKK PUTRAGIRI KULON PROGO
Sugiyati Sugiyati

TK PKK Putragiri, Indonesia
Abstract
The ability of the language of children is still low because some children have not been able to communicate fluently, the method of telling through the media images is one of the learning methods that can improve the language skills of children, The purpose of this study is to determine the effectiveness of the application of story telling methods using the image media as an effort to improve language skills in children in PKK Putragiri, Giripurwo, Girimulyo, Kulon Progo. The method used in this research is the experimental method, which is comparing the initial value before being treated with the storytelling method using the image media and the final value after being treated with the storytelling method using the image media in the experimental class. Data analysis technique used is independent samples test. The subjects of the research were group B students in Putragiri PKK kindergarten, which consisted of 60 children consisting of 2 groups, namely group B1 and B2. There were 30 students each group. The experimental group and control group were determined by using simple random sampling of 30 students. Data collection techniques using observation, measuring instruments used in this study using the scale of language skills consisting of the ability to listen, speak, read and write. The results of this study were, 1) the ability of the language in the experimental class before treatment is included in the category of less, and after being given the treatment is very good category. 2) The storytelling method using the appropriate and effective picture media is used as a method of developing the students 'language skills in TK PKK Putragiri Giripurwo Girimulyo Kulon Progo, 3) the storytelling method using the image media has also made the students' language skills in the experimental class become balanced which is marked by the value the range obtained is 19. It differs greatly from that in the control / control classes whose language skills are not balanced between those with the highest and lowest values, it is indicated by the range of values ​​obtained in the control class which amounts to 40.
Keywords:
Ability, speaking, story telling, media, pictures
PDF Downloads
Download data is not yet available.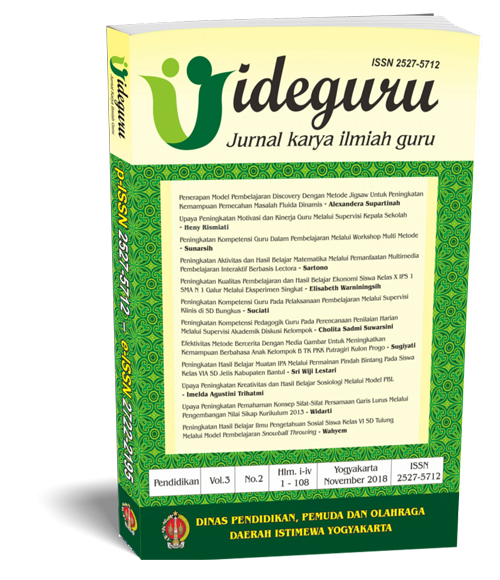 How to Cite:
Sugiyati, S. (2018). EFEKTIVITAS METODE BERCERITA DENGAN MEDIA GAMBAR UNTUK MENINGKATKAN KEMAMPUAN BERBAHASA ANAK KELOMPOK B TK PKK PUTRAGIRI KULON PROGO. Ideguru: Jurnal Karya Ilmiah Guru, 3(2), 59-70. Retrieved from https://jurnal-dikpora.jogjaprov.go.id/index.php/jurnalideguru/article/view/57
Section
Research Articles

Abstract viewed: 168 times

PDF (Bahasa Indonesia) downloaded: 602 times