PENINGKATAN KOMPETENSI GURU PADA PELAKSANAAN PEMBELAJARAN MELALUI SUPERVISI KLINIS DI SD BUNGKUS
Suciati Suciati

SD Bungkus, Indonesia
Abstract
This School Action Research conducted at SD Bungkus. The aims of this study were to 1). Improve the teacher competence especially in learning process through clinical supervision. 2). Know the appropriate steps of clinical supervision in order to improve teacher competitiveness. This study used two cycles. Each cycle consisting of two meetings. There were four stages in each cycles: planning, implementation, observation and reflection. Subject of this study were six teachers. Data collected by observed the learning proccess in the classroom by using 5 instruments, namely syllabus and semester program, teaching plans and program (RPP), learning process, student assessment and classroom management. The interpretation of score in this study used the criteria as follows: 80-100 was very good, 66-79 was good, 55-65 was sufficient and 40-55 was less. Results of this study showed that the teacher initial ability was in less criteria. The result after first cycle was still in less criteria, but after improvement in second cycle it was increased to good and average criteria, and even two teachers reached excellent criteria. It can be concluded that by using clinical supervision there was a significant increase in teacher competence from the initial condition, especially after second cycle.
Keywords:
teacher competency, clinical supervision
PDF Downloads
Download data is not yet available.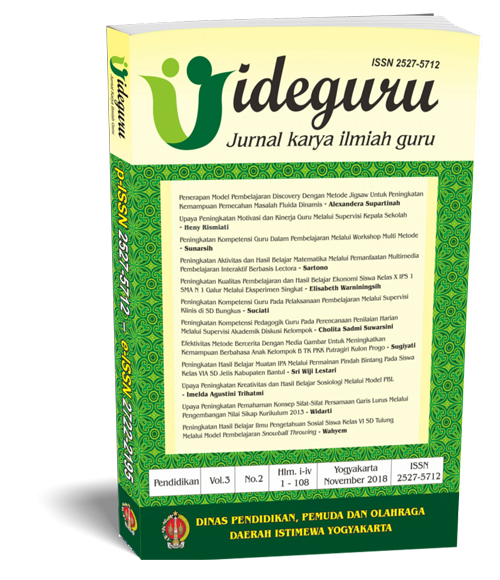 How to Cite:
Suciati, S. (2018). PENINGKATAN KOMPETENSI GURU PADA PELAKSANAAN PEMBELAJARAN MELALUI SUPERVISI KLINIS DI SD BUNGKUS . Ideguru: Jurnal Karya Ilmiah Guru, 3(2), 41-47. Retrieved from https://jurnal-dikpora.jogjaprov.go.id/index.php/jurnalideguru/article/view/55
Section
Research Articles

Abstract viewed: 31 times

PDF downloaded: 18 times