Trigonometri, Geogebra, dan Infografis: Sebuah Prosedur Pembelajaran yang Sangkil dan Mangkus
Muflichati Nurin Azizah

SMA Negeri 1 Yogyakarta, Yogyakarta, Daerah Istimewa Yogyakarta, Indonesia
Abstract
Trigonometry is one of the branches in Mathematics that is considered difficult to learn by most of the students. One of the learning activities is drawing a graph of a Trigonometric function. There are three ways to learn and master it, namely determining the coordinates of points, determining amplitudes and periods, or by using translation. By involving two classes taught by the writer as the object of the teaching and learning process, it is highly expected that they will get positive effects from it. The use of GeoGebra is continued by creating an infographic about the graph of trigonometric functions directing students in an efficient learning procedure. They actively cultivate the knowledge gained. Students get the opportunity to process for themselves the knowledge gained precisely through the exploration of the characteristics of function graphs. The use of learning facilities in the classroom in the form of adequate internet can help the learning process, save costs, time, and energy. The use of GeoGebra followed by making infographics is effective for learning graphs of Trigonometric functions as indicated by the quality of learning outcomes obtained by students. The average infographic scores of the KD 3.10 and 4.10 class X MIPA-1 are 92.69 and 93.98 while class X MIPA-2 are 92.86 and 94.05. The results of daily assessment-1 and daily assessment-2 respectively for class X MIPA-1 are 80.83 and 83.22 while class X MIPA-2 are 81.94 and 84.54. From these various results, it can be concluded that the combination of Trigonometry, GeoGebra, and Infographics, can create an effective and efficient procedure in the teaching and learning process.
Keywords:
trigonometry, geogebra, infographics, efficient, effective
PDF Downloads
Download data is not yet available.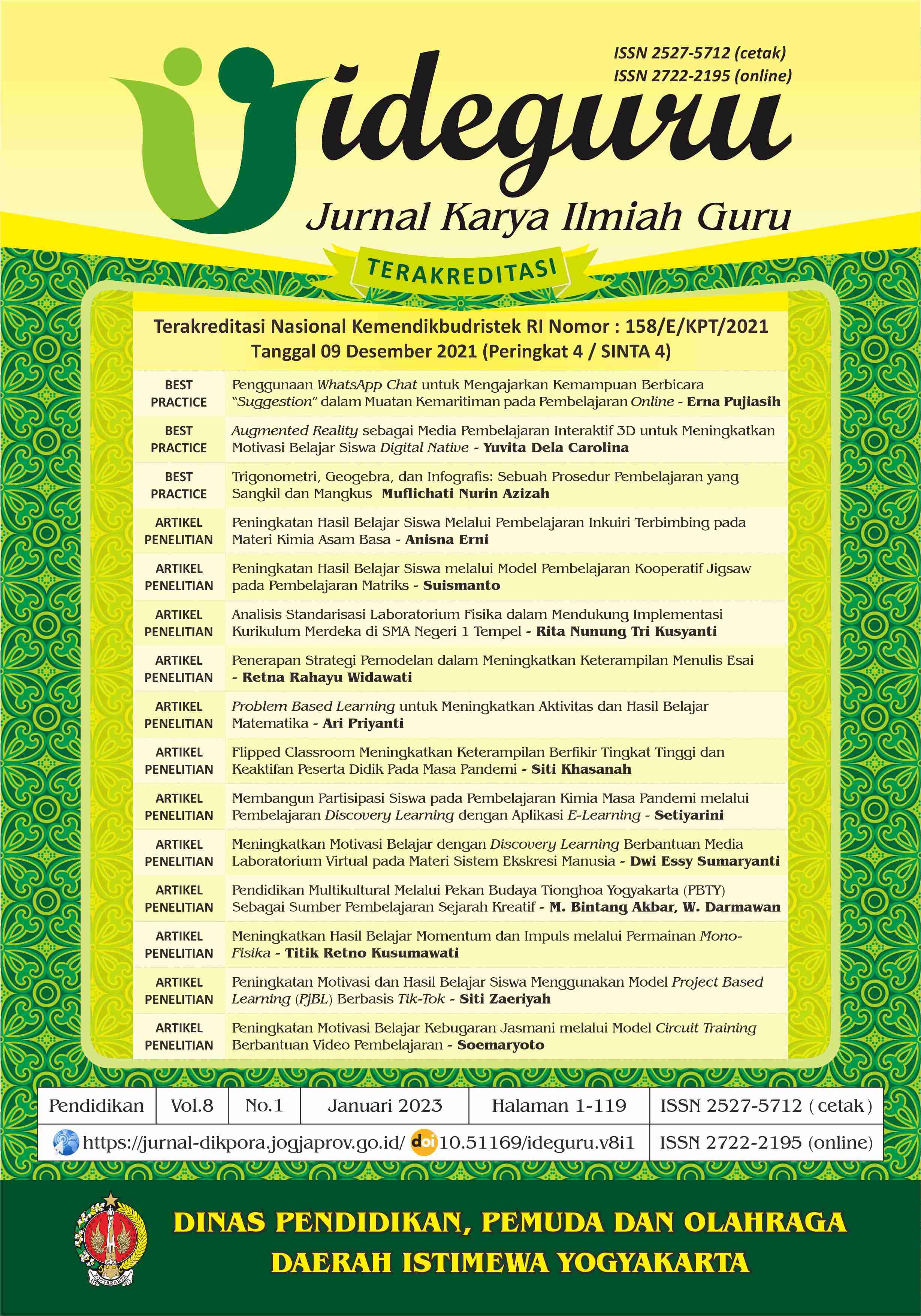 How to Cite:
Azizah, M. N. (2022). Trigonometri, Geogebra, dan Infografis: Sebuah Prosedur Pembelajaran yang Sangkil dan Mangkus. Ideguru: Jurnal Karya Ilmiah Guru, 8(1), 17-24. https://doi.org/10.51169/ideguru.v8i1.452
Copyright (c) 2023 Muflichati Nurin Azizah
This work is licensed under a Creative Commons Attribution 4.0 International License.

Abstract viewed: 177 times

PDF (Bahasa Indonesia) downloaded: 226 times