Augmented Reality sebagai Media Pembelajaran Interaktif 3D untuk Meningkatkan Motivasi Belajar Siswa Digital Native
Yuvita Dela Carolina

SMA Negeri 2 Wates, Kulon Progo, Daerah Istimewa Yogyakarta, Indonesia
Abstract
This best practice aims to describe the use of Augmented Reality (AR) as a 3D interactive learning media that has an impact on increasing the learning motivation of digital native students. AR is a technology that can integrate the dimensions of the virtual world with the real world that can be displayed in real time. AR is implemented to convey the earth's material as a planet class X IPS 1 and X IPS 2 at SMA N 2 Wates. The method in writing this best practice uses a qualitative descriptive approach, with the stages in this best practice activity consisting of the preparation stage, implementation stage and evaluation stage. The author gives a questionnaire to students related to the evaluation of the use of AR which is then analyzed and used as the basis for determining conclusions. Based on the results of the questionnaire, it is known that there is an increase in students' learning motivation in participating in geography learning using AR as a 3D interactive learning medium, from before there were no students who had high motivation, after using AR as a medium 65% of students had very high motivation. In addition, students who have high motivation before using AR are only 3% to 23% of students, using five indicators of student learning motivation assessment, namely the desire to succeed, awareness in learning, persevering in completing assignments, never giving up when facing difficulties, interest in learning. in study. Based on these indicators, it is known that students' learning motivation has increased after using AR. Thus, it can be concluded that AR as a 3D interactive media can increase the learning motivation of digital native students.
Keywords:
augmented reality, learning motivation, digital native
PDF Downloads
Download data is not yet available.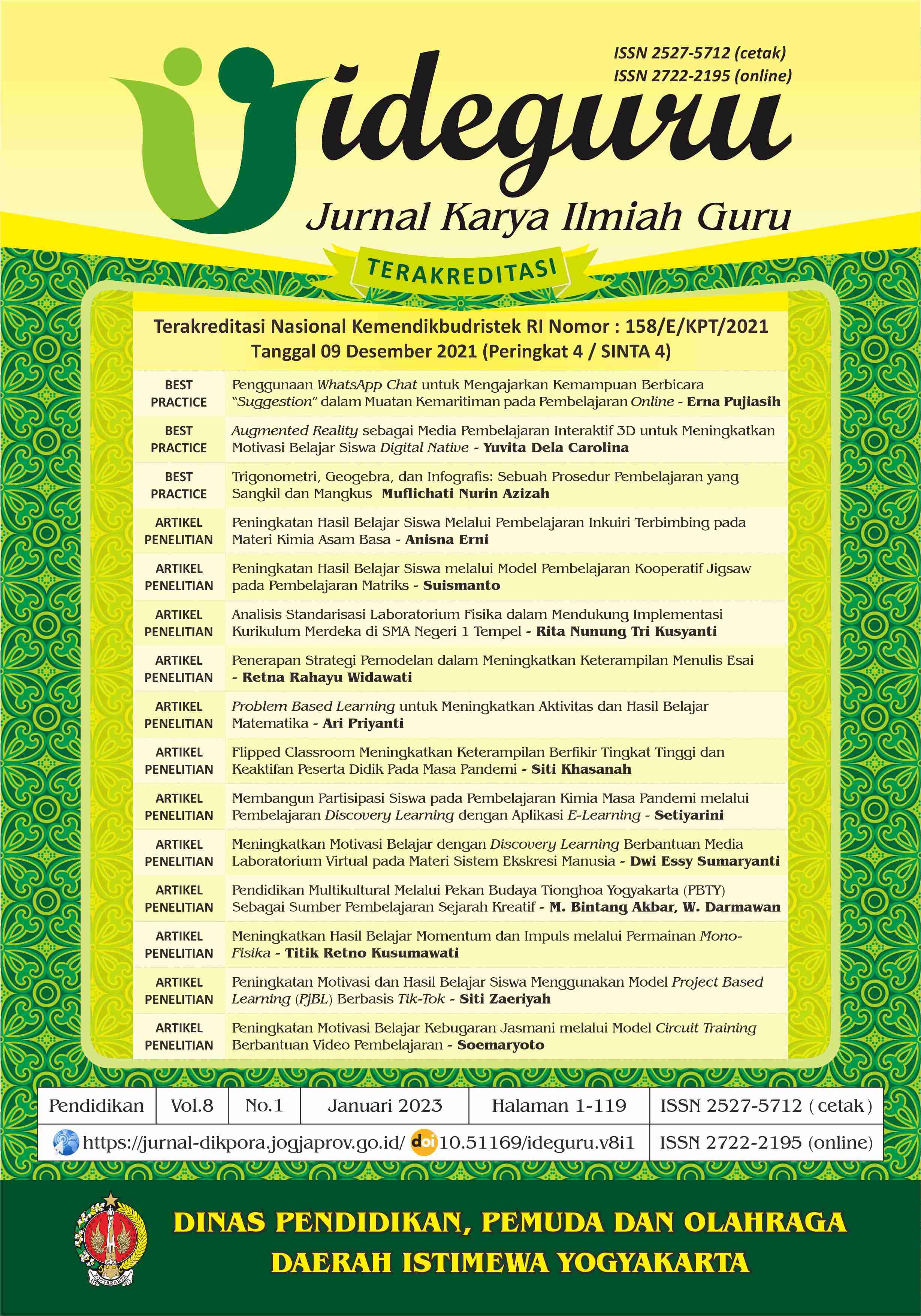 How to Cite:
Carolina, Y. D. (2022). Augmented Reality sebagai Media Pembelajaran Interaktif 3D untuk Meningkatkan Motivasi Belajar Siswa Digital Native. Ideguru: Jurnal Karya Ilmiah Guru, 8(1), 10-16. https://doi.org/10.51169/ideguru.v8i1.448
Copyright (c) 2023 Yuvita Dela Carolina
This work is licensed under a Creative Commons Attribution 4.0 International License.

Abstract viewed: 698 times

PDF (Bahasa Indonesia) downloaded: 583 times