Meningkatkan Motivasi Belajar dengan Discovery Learning Berbantuan Media Laboratorium Virtual pada Materi Sistem Ekskresi Manusia
Dwi Essy Sumaryanti

SMA Negeri 5 Yogyakarta, Yogyakarta, Daerah Istimewa Yogyakarta, Indonesia
Abstract
The purpose of this study is to explain the implementation of increasing students' learning motivation by applying the Discovery Learning model using virtual laboratory media for excretory system material in class XI MIPA 5 SMA N 5 Yogyakarta. This research is a Classroom Action Research which includes 4 procedures, namely planning, action, observation, and reflection. Research data were taken by questionnaires, observations, field notes, and documentation. The data analysis technique used descriptive qualitative analysis for 2 cycles. The stages in learning activities using the Discovery Learning model start from providing stimulation, questioning/problem identification, data processing, evidence, drawing conclusions/generalizations. Discovery Learning model learning using virtual laboratory media on excretory system material can increase student motivation in class XI MIPA 5 SMA Negeri 5 Yogyakarta. The results showed that students' learning motivation in the first cycle was 73.87%, which means that they have not met the indicators of success. The increase in the percentage of students' learning motivation occurred in cycle II where students' learning motivation reached 83.39% so that it can be said to have met the indicators of success.
Keywords:
discovery learning, virtual laboratory, motivation, excretion system
PDF Downloads
Download data is not yet available.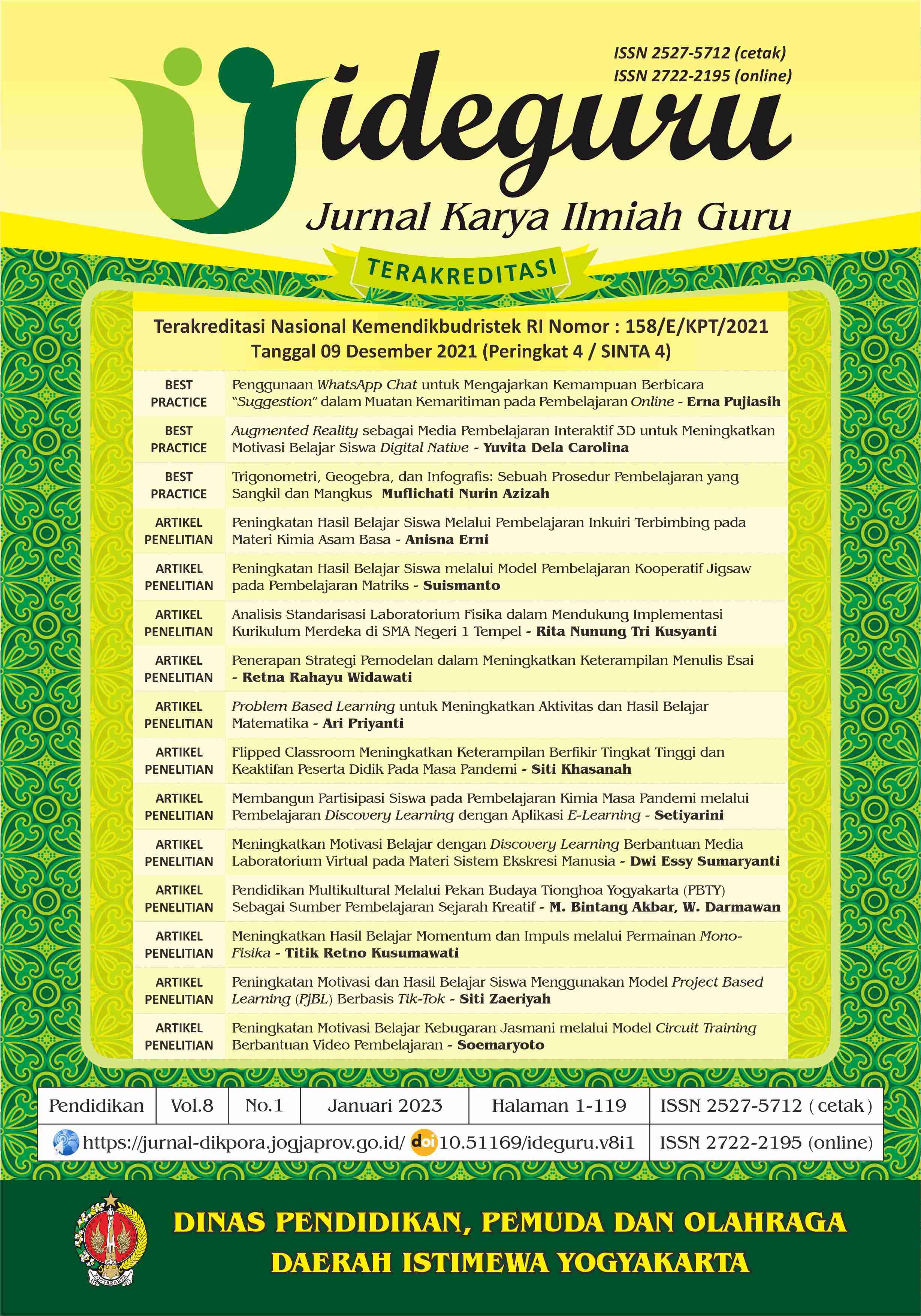 How to Cite:
Sumaryanti, D. E. (2022). Meningkatkan Motivasi Belajar dengan Discovery Learning Berbantuan Media Laboratorium Virtual pada Materi Sistem Ekskresi Manusia. Ideguru: Jurnal Karya Ilmiah Guru, 8(1), 83-91. https://doi.org/10.51169/ideguru.v8i1.436
Section
Research Articles
Copyright (c) 2023 Dwi Essy Sumaryanti
This work is licensed under a Creative Commons Attribution 4.0 International License.

Abstract viewed: 320 times

PDF (Bahasa Indonesia) downloaded: 304 times