Membangun Partisipasi Siswa pada Pembelajaran Kimia Masa Pandemi melalui Pembelajaran Discovery Learning dengan Aplikasi E-Learning
Setiyarini Setiyarini

SMA Negeri 1 Wates, Kulon Progo, Daerah Istimewa Yogyakarta, Indonesia
Abstract
The Covid-19 pandemic has changed the learning paradigm from offline to online learning.  The teacher found out the problems during online, student learning in class X MIPA.5 that is the lack of active participation and the low level of students' understanding in chemistry.  The teacher tries to solve the problem by conducting Classroom Action Research implementing Discovery Learning method through E-Learning application on mole and stoichiometry, wich consists of two cycles. There are four stages in every cycle: planning, action, observation, and reflection.  The research was conducted in students of X MIPA 5 SMA Negeri 1 Wates academic year 2020/2021.   Instruments for data collection consits of student and teacher observation sheets, understanding (cognitive) testing instruments, and questionnaire on the learning implementation. The research data were analyzed and presented to draw conclusions in a quantitative descriptive manner.  The research data analyzing has shown a result that Discovery Learning learning method using E - learning has improve the students active participation and understanding in chemestry. There is an improvement on students active participation on discussion aspect which is in the first cycle 81% become 89.84% in the second cycle, from the presentation aspect in the first cycle 56.67% become 91.53% in the second cycle.  The results of understanding (cognitive) which is the avevase in pra cycle 41.72 become 84.44 in the first cycle and 81.56 in the second cycle.
Keywords:
discovery learning, e-learning, participation, level of understanding
PDF Downloads
Download data is not yet available.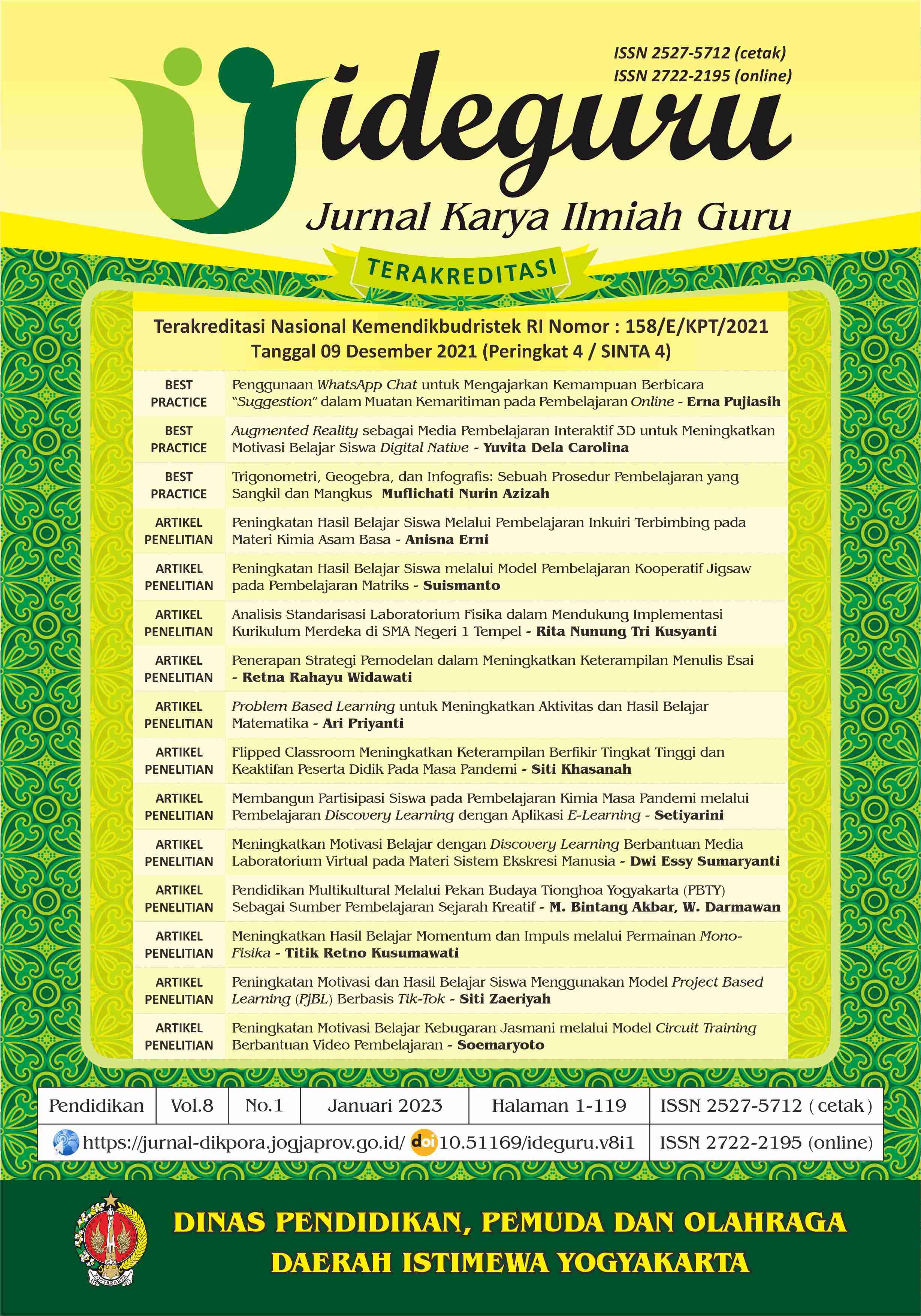 How to Cite:
Setiyarini, S. (2022). Membangun Partisipasi Siswa pada Pembelajaran Kimia Masa Pandemi melalui Pembelajaran Discovery Learning dengan Aplikasi E-Learning. Ideguru: Jurnal Karya Ilmiah Guru, 8(1), 73-82. https://doi.org/10.51169/ideguru.v8i1.434
Section
Research Articles
Copyright (c) 2023 Setiyarini
This work is licensed under a Creative Commons Attribution 4.0 International License.

Abstract viewed: 259 times

PDF (Bahasa Indonesia) downloaded: 227 times