Menulis Bentuk Passé Composé Menggunakan Padlet Berbasis Project Based Learning
Nauli Trisnainy Siregar

SMA Negeri 1 Kalasan, Sleman, Daerah Istimewa Yogyakarta, Indonesia
Abstract
Writing is one of the language competencies, however, students have difficulty when writing in the form of Passé Composé. This study aims to determine the improvement of the competence in writing skills in the form of Passé Composé, and to determine the application the use of project learning model-based Padlet in learning the writing skills of the Passé Composé form. Action research was carried out in semester 2 of the 2020/2021 academic year. The subject of the action recipient is a student of class XI IPS 1 SMAN 1 Kalasan. Data collected through tests, non-tests, observations, questionnaires, and documentation. Data analysis is done with the method of scoring and success criteria. The results of the study after being given actions in the form of writing learning using Padlet in groups showed that there was an increase in student participation and learning outcomes in writing skills in the form of Passé Composé. Student participation increased from 33.33% in Cycle I to 97,22% in Cycle II, while learning outcomes increased from 24,99% to 88, 56% in Cycle II. From the results of this action research, it can be concluded that the use of Padlet with a project learning model in group can improve the competence of writing skills in the form of Passé Composé.
Keywords:
padlet, writing, passé composé
PDF Downloads
Download data is not yet available.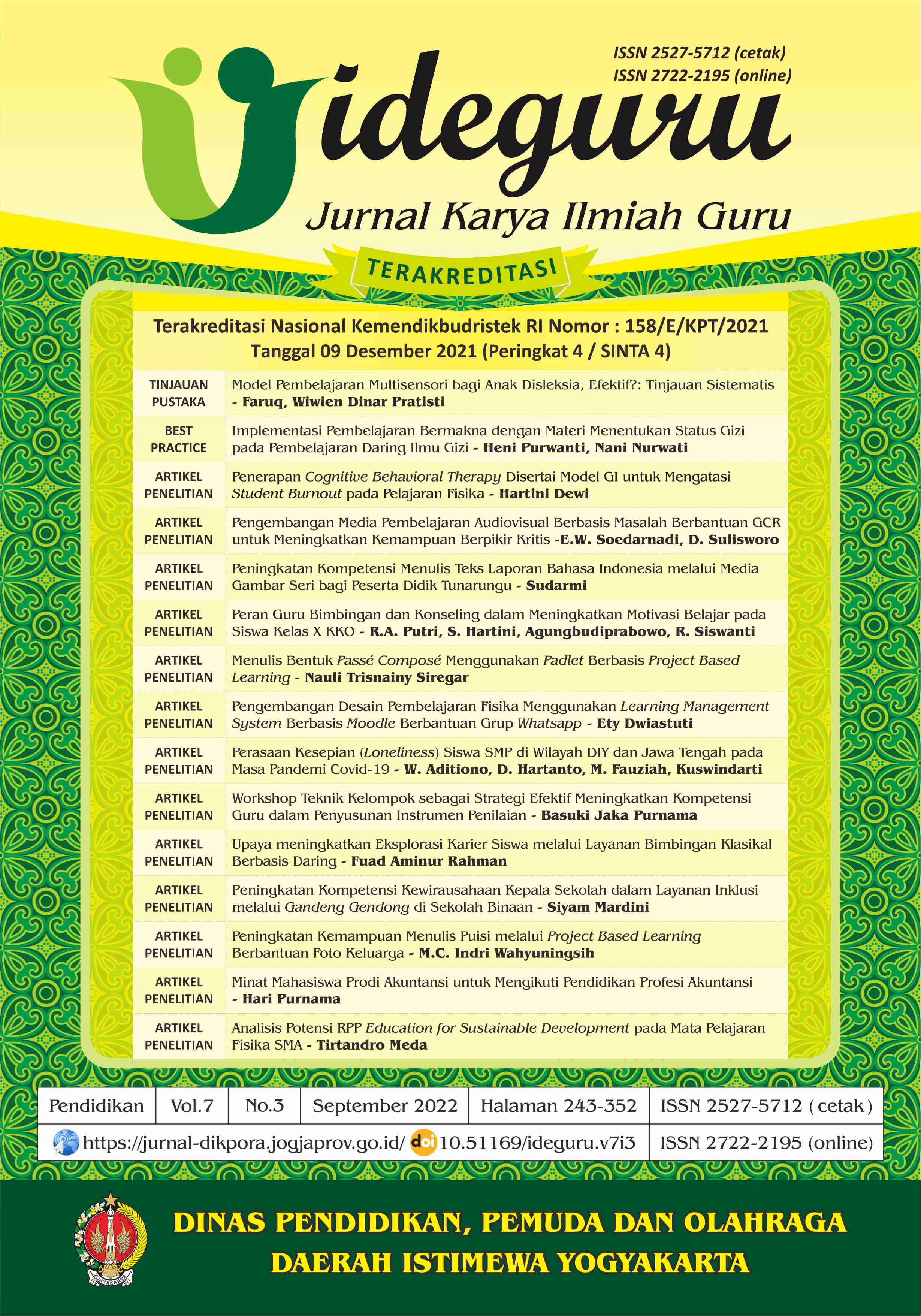 How to Cite:
Siregar, N. T. (2022). Menulis Bentuk Passé Composé Menggunakan Padlet Berbasis Project Based Learning. Ideguru: Jurnal Karya Ilmiah Guru, 7(3), 288-293. https://doi.org/10.51169/ideguru.v7i3.409
Section
Research Articles
Copyright (c) 2022 Nauli Siregar
This work is licensed under a Creative Commons Attribution 4.0 International License.

Abstract viewed: 304 times

PDF (Bahasa Indonesia) downloaded: 239 times