PENGUATAN PENDIDIKAN KARAKTER DALAM PEMBELAJARAN BAHASA INGGRIS DENGAN CERITA PENDEK
Erna Pujiasih

SMA Negeri 1 Bantul, Indonesia
Abstract
This paper discusses about the teaching character education to build the character by learning English. More specifically, the paper presents what the character building in the teaching English of narrative text and how the teachers involve the character building in teaching English.
Teaching English will be interesting   by story. The story is usually learnt in narrative text. The narrative text is one of the material that is learned by the students.  This is used to teach the character and the students can   take the moral value from the narrative.
The teaching can be done by various activity of teaching narrative text. It can be in speaking, listening, reading and writing. In the teaching and learning process the teachers involve the character building from the moral value of story. This is the time to develop thestudent characters from the story whether   the characters have good or bad characters in the story.  Character will be built by the habit of learning English .Teaching English should teach knowledge and the values of character from the narrative text.
Keywords:
education, character, teaching English, narrative
PDF Downloads
Download data is not yet available.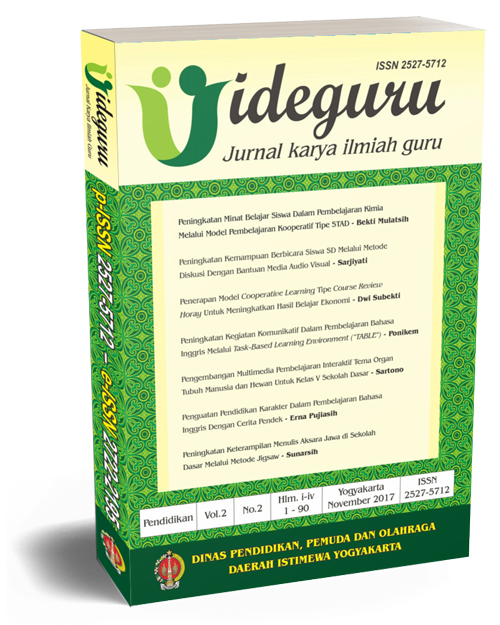 How to Cite:
Erna Pujiasih. (2017). PENGUATAN PENDIDIKAN KARAKTER DALAM PEMBELAJARAN BAHASA INGGRIS DENGAN CERITA PENDEK . Ideguru: Jurnal Karya Ilmiah Guru, 2(2), 74-80. Retrieved from https://jurnal-dikpora.jogjaprov.go.id/index.php/jurnalideguru/article/view/36
Section
Research Articles

Abstract viewed: 543 times

PDF downloaded: 811 times