Empowerment of Student Parents Association to Improve Motivation and Achievement of Sports Special Class Students
Jaka Tumuruna

SMA Negeri 4 Yogyakarta, Yogyakarta, Daerah Istimewa Yogyakarta, Indonesia
Abstract
This best practice aims to describe the steps and results of SMAN 4 Yogyakarta in empowering the Student Parents Association (Potsis) to increase the motivation and achievement of the Special Class Sports (KKO) students. The research method uses a descriptive qualitative approach. Data collection techniques were using a questionnaire. Potsis empowerment steps are carried out by: (1) homeroom teacher; (2) inspiration class, (3) parent class; (4) special meeting; (5) communication with Whatsapp Group (WAG); and (6) telephone or Short Message Service (SMS). Based on the results of the questionnaires, Potsis was able to increase the motivation of KKO students which was marked by the increase in student achievement. In addition, Potsis empowerment also increases: (1) responsibility, discipline, enthusiasm for learning, ethics, and learning completeness by 53.125%, 31.25%, 43.75%, 56.25%, respectively; and 43.75%; (2) sports achievements; (3) national exam results; and (4) graduates students who got accepted in state universities.
Keywords:
Student Parents Association, learning motivation, achievement
PDF Downloads
Download data is not yet available.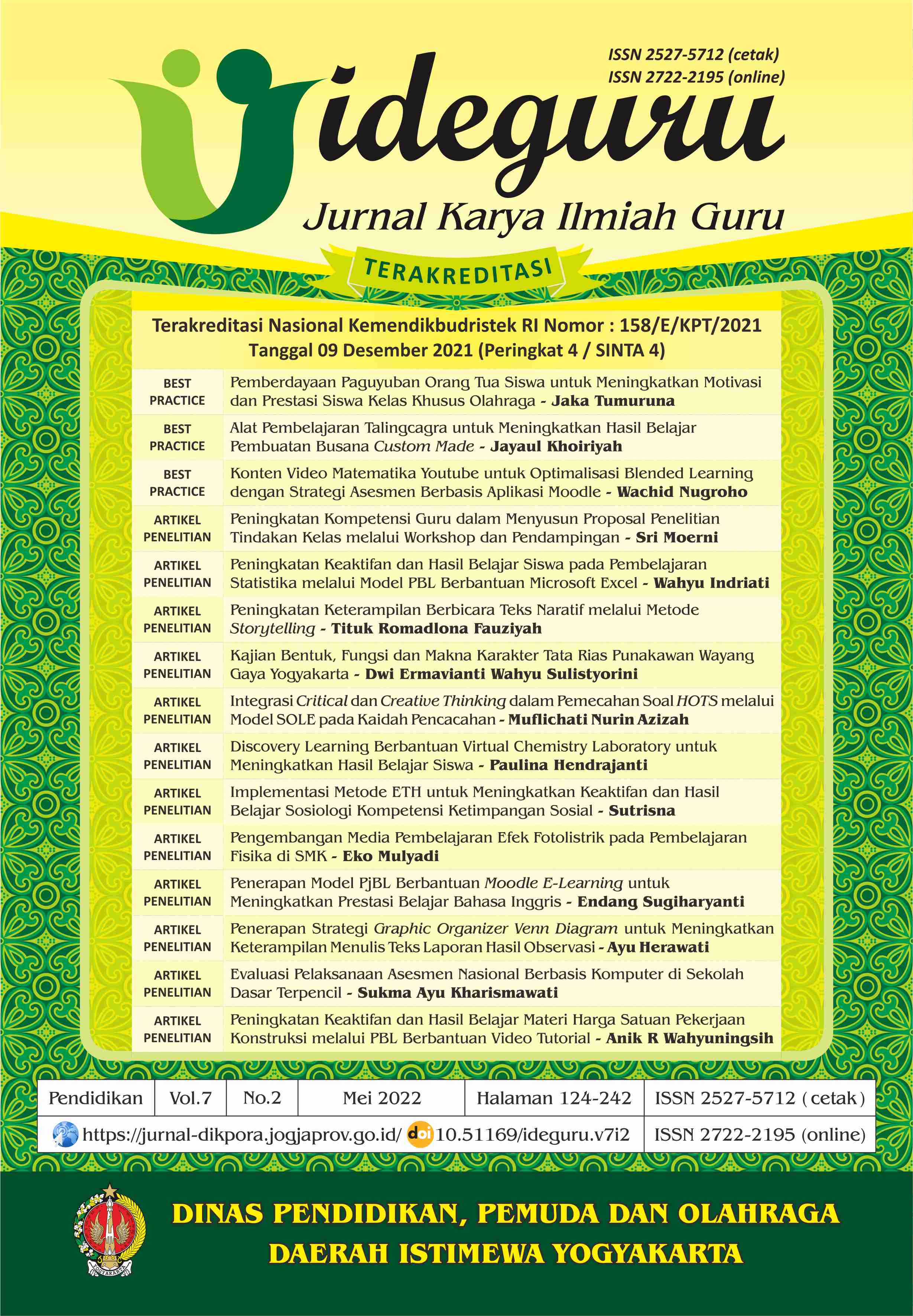 How to Cite:
Tumuruna, J. (2022). Empowerment of Student Parents Association to Improve Motivation and Achievement of Sports Special Class Students. Ideguru: Jurnal Karya Ilmiah Guru, 7(2), 124-130. https://doi.org/10.51169/ideguru.v7i2.344
Copyright (c) 2022 Jaka Tumuruna
This work is licensed under a Creative Commons Attribution 4.0 International License.

Abstract viewed: 319 times

PDF (Bahasa Indonesia) downloaded: 394 times