Improving Speaking Skill in Narrative Text using Storytelling Method
Tituk Romadlona Fauziyah

SMA Negeri 10 Yogyakarta, Yogyakarta, Daerah Istimewa Yogyakarta, Indonesia
Abstract
Students' speaking skill in narrative text is still low. Pretes in class X social 2 State Senior High School 10th Yogyakarta academic year 2020-2021 showed that only 16 students (45.75%) are skilled. The objective of the research is improving speaking skill in narrative text using storytelling method. The research is Classroom Action Research (CAR) which was done in two cycluses, in April to May 2021. In every cyclus there are planning, action, observing, and reflecting. Collecting data technique used in the research are observation, questionnaire, practice, and documentation. The result of research showed that percentage of students that gain the minimum mastery criteria score increased from first cycle to the last cycle. In the pre-cycle stage there were 16 students (45.72%), increased to 18 students (51.43%) at cycle 1, and increased to 31 students at cycle 2. It can be said that the students that gain the minimum criteria from pre-cycle to cycle 2 increased to 42.85%. The students'mean value increased from 75.20% at pre-cycle to 75.80% at cycle 1 and increased to 78.85% at cycle 2. It meant that the students'mean value from pre-cycle stage to cycle 2 was 3.65%. In conclusion storytelling methode is able to improve students'speaking ability in narrative text.
Keywords:
speaking skill, narrative text, storytelling
PDF Downloads
Download data is not yet available.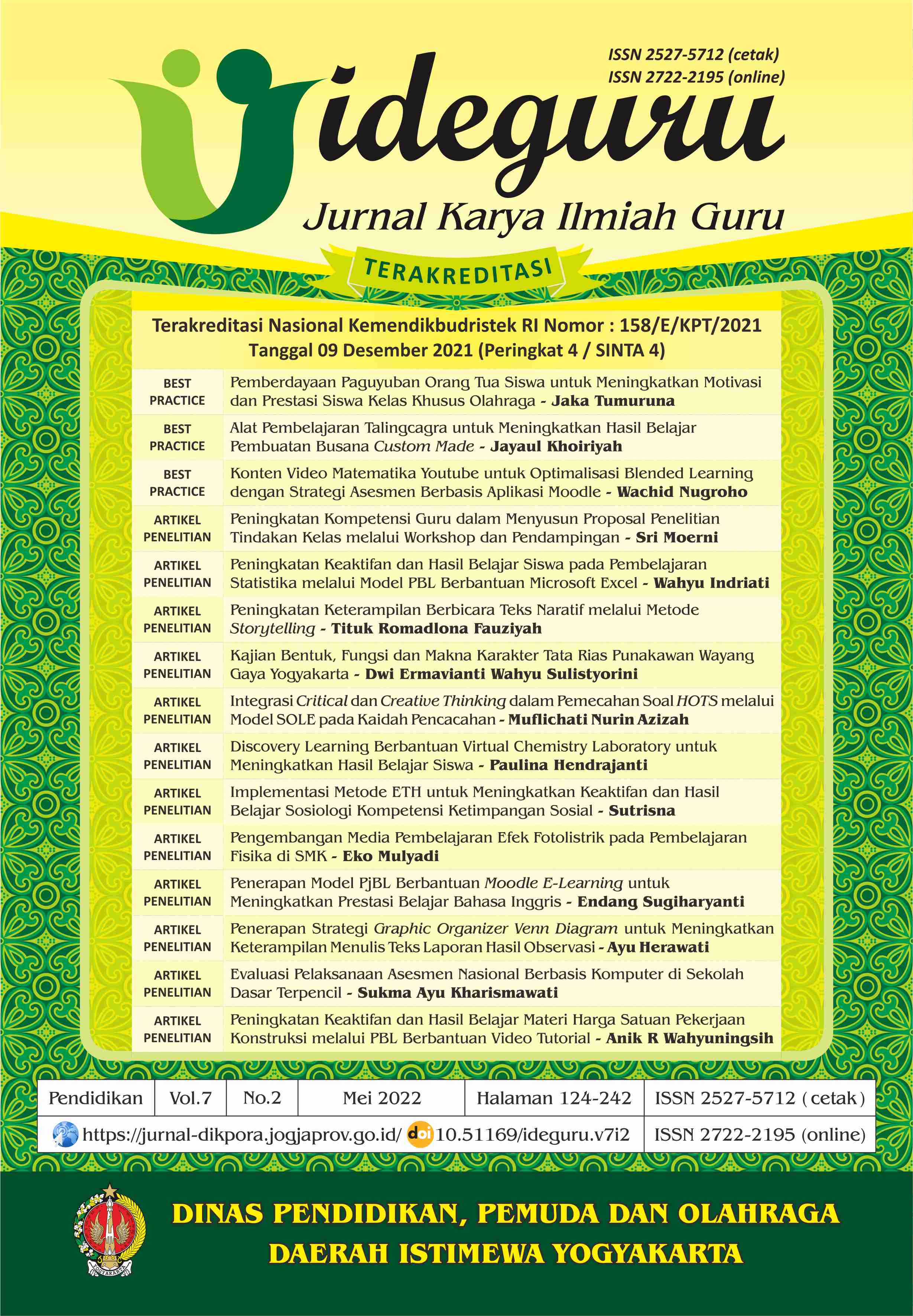 How to Cite:
Fauziyah, T. R. (2022). Improving Speaking Skill in Narrative Text using Storytelling Method. Ideguru: Jurnal Karya Ilmiah Guru, 7(2), 164-169. https://doi.org/10.51169/ideguru.v7i2.341
Section
Research Articles
Copyright (c) 2022 Tituk Romadlona Fauziyah
This work is licensed under a Creative Commons Attribution 4.0 International License.

Abstract viewed: 429 times

PDF (Bahasa Indonesia) downloaded: 335 times