Quality Analysis of K-Means Algorithm Grouping in Knime and Excel for PTMT Post Covid-19 Vaccination
Lili Kartikawati

SMK Negeri 4 Yogyakarta, DIY, Indonesia
Abstract
Face-to-face learning that involves interaction between friends and teachers is very difficult to replace with distance learning. Vaccination of educators and education staff is one of the country's priorities in accelerating face-to-face learning. Educators and education personnel in the Yogyakarta city education unit have implemented a complete COVID-19 vaccination in April 2021, so that SMK Negeri 4 Yogyakarta is required to provide limited face-to-face learning services (PTMT) and facilitate distance learning. Quality grouping is needed to limit the number of students who receive PTMT services. The process of grouping a set of data into clusters that have similarities is determined by calculating the distance. This study grouped students with the KNIME application and Microsoft Excel. Furthermore, the analysis of the calculation of the quality of the grouping of the two applications is carried out to get the best prototype. The manual calculation uses the Euclidean distance formula to calculate the distance between documents and the silhouette coefficient method to calculate the characteristic difference (distance difference) between clusters and the characteristic equation (closeness of distance) of the data in one cluster. The results of the K-Means algorithm clustering output from the KNIME application have a quality of 0.3208 (weak) while the excel manual has a quality of 0.6331 (medium), so the results of the excel manual are recommended to help the school curriculum classify PTMT.
Keywords:
K-Means algorithm, vaccination COVID-19, PTM Limited, Knime
PDF Downloads
Download data is not yet available.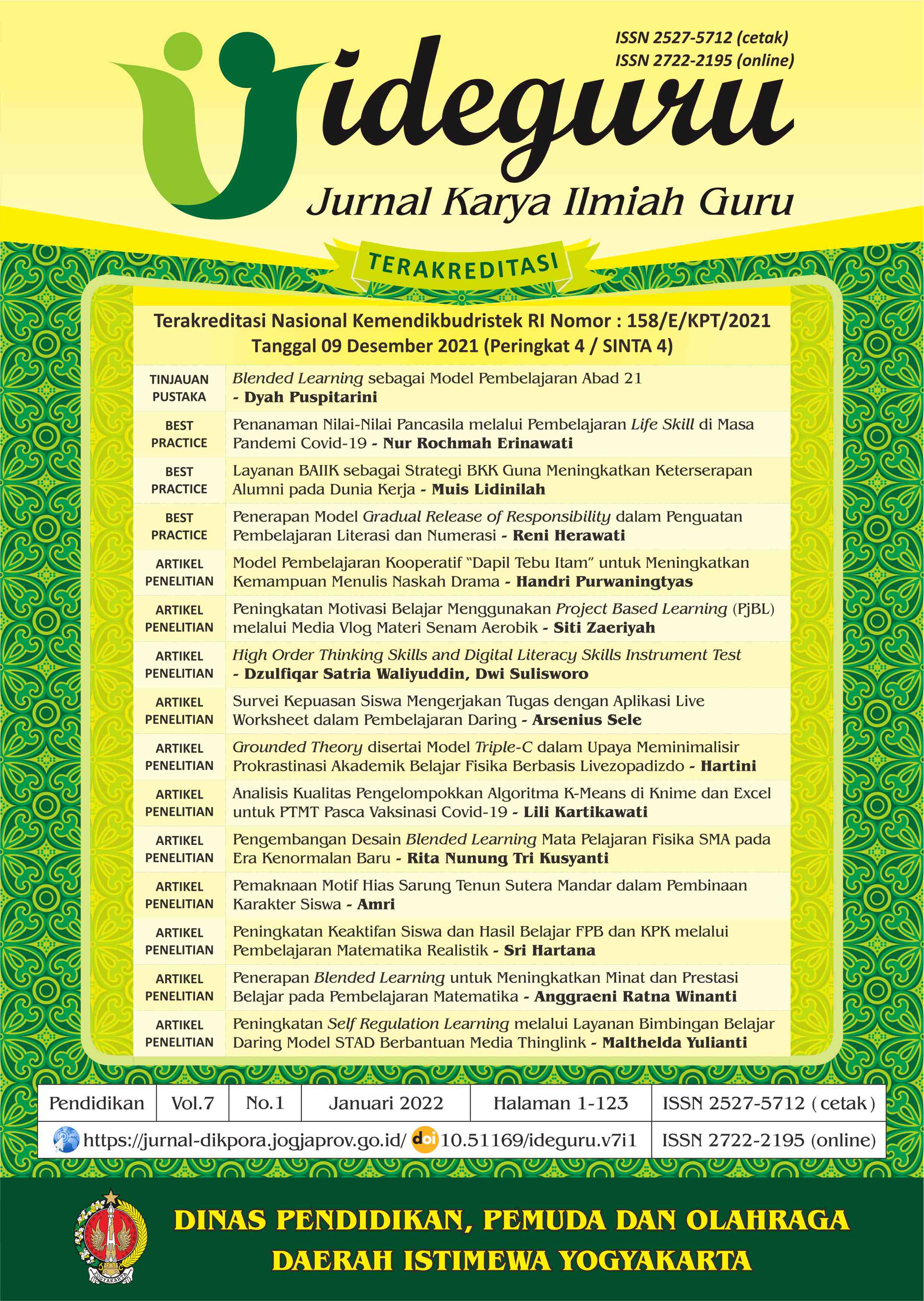 How to Cite:
Kartikawati, L. (2022). Quality Analysis of K-Means Algorithm Grouping in Knime and Excel for PTMT Post Covid-19 Vaccination. Ideguru: Jurnal Karya Ilmiah Guru, 7(1), 70-79. https://doi.org/10.51169/ideguru.v7i1.316
Section
Research Articles
Copyright (c) 2022 Lili Kartikawati
This work is licensed under a Creative Commons Attribution 4.0 International License.

Abstract viewed: 228 times

PDF (Bahasa Indonesia) downloaded: 276 times