Whatsapp and Quizizz Collaboration to Improve Student Learning Outcomes During the Covid-19 Pandemic
Dewi Rosiani

SMK Negeri 1 Sewon, Indonesia
Abstract
This best practice research aims to explain the implementation of learning through the collaboration of whatsapp and quizizz (Whaqu) applications to improve student learning outcomes and explain student responses to the implementation of learning. The method used in this research is descriptive qualitative. From the results of the initial evaluation study by distributing questionnaires to 36 students of class X MIPA 1, it was found that 94% of students preferred WA as an online-based learning tool and for the evaluation 58% of students chose quizizz. Whaqu's collaboration has proven to be successful in improving student learning outcomes. This statement is concluded from the data that initially only 64% of students whose scores were above the KKM in the 1st treatment rose to 83% in the 2nd treatment. Then in the 3rd treatment it rose to 92% and in the 4th treatment it rose to 94%. Finally on the 5th treatment it rose to 100% . In addition, 36 students responded that both applications (whatsapp and quizizz) were easy to use, smooth implementation because they were easily accessible, and effectively improved learning outcomes. Through Whaqu learning, student characters are developed such as being honest, never giving up, trying hard, being independent, disciplined, and respecting time. Through quizizz interactive quizzes, students have the spirit to try, never give up, and are independent to get better results. In addition, according to them, quizizz is an interactive quiz that is not boring and interesting with color displays, animations, music that makes students not bored.
Keywords:
whatsapp, quizizz, learning outcomes, covid-19 pandemic
PDF Downloads
Download data is not yet available.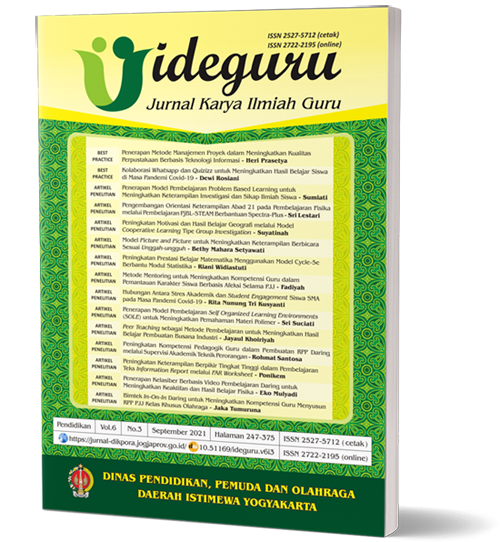 How to Cite:
Rosiani, D. (2021). Whatsapp and Quizizz Collaboration to Improve Student Learning Outcomes During the Covid-19 Pandemic. Ideguru: Jurnal Karya Ilmiah Guru, 6(3), 257-264. https://doi.org/10.51169/ideguru.v6i3.304
Copyright (c) 2021 Dewi Rosiani
This work is licensed under a Creative Commons Attribution 4.0 International License.

Abstract viewed: 474 times

PDF (Bahasa Indonesia) downloaded: 417 times