Utilization of Blended Learning to Improve Basic Movement Ability to Play Basketball During Covid-19 Pandemic
Margiyani Margiyani

SD Negeri Keduntangkil, Kulon Progo, Daerah Istimewa Yogyakarta, Indonesia
Abstract
This best practice aims to improve the basic movement skills of students playing basketball during the Covid-19 pandemic by implementing blended learning. The subjects of this best practice writing were 22 students of class VI SD Negeri Kedungtangkil for the 2019/2020 academic year, consisting of 13 male students and 9 female students. This best practice uses descriptive methods. Data is collected through observation and documentation and analyzed by qualitative descriptions. Observation with the observation rubric produced data on the percentage of students' abilities in doing basic movements to play basketball. This Best Practice uses a blended learning model. Blended Learning is a learning model that uses a mixture of three components. These components include online, offline, and independent learning through social interaction. Online learning is carried out by providing teaching materials and assignments via WhatsApp and Google Forms. Offline learning is carried out through regular home visits to clarify assignments submitted online and to provide feedback on independent learning outcomes. The results of the application of blended learning can improve learning practice playing basketball. This increase occurred in the ability of Basic Motion to hold the ball, which increased by 9, 47%, catching the ball increased by 12, 5%. Throwing the ball is increased by 7.2%, dribbling the ball is increased by 7.95%. Meanwhile, the ability to enter the ball increased by 14, 23%. Blended learning is a learning solution for Physical Education and Health during the Covid-19 pandemic because it can increase the percentage of students' abilities in mastering the material. The ability to play basketball, in general, increased from an average of 66, 62 to 76, 75, and completed the KKM.
Keywords:
blended learning, the basic movement to play basketball, pandemic period
PDF Downloads
Download data is not yet available.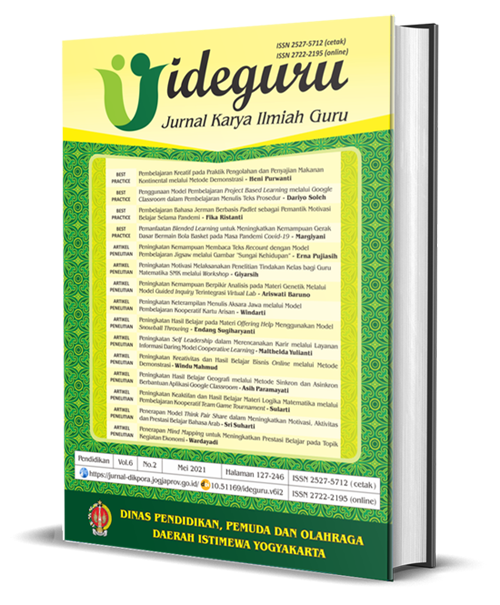 How to Cite:
Margiyani, M. (2021). Utilization of Blended Learning to Improve Basic Movement Ability to Play Basketball During Covid-19 Pandemic . Ideguru: Jurnal Karya Ilmiah Guru, 6(2), 153-160. https://doi.org/10.51169/ideguru.v6i2.250
Copyright (c) 2021 Margiyani Margiyani
This work is licensed under a Creative Commons Attribution 4.0 International License.

Abstract viewed: 368 times

PDF (Bahasa Indonesia) downloaded: 660 times