Implementation of Think Pair Share Model to Improve Motivatian, Activity and Achievement in Arabic
Sri Suharti

MTs Negeri 1 Bantul, Indonesia
Abstract
Most of students assume that Arabic the most difficult lesson. 89,25% of students VII F class at school year 2019/2020 of MTs Negeri 1 Bantul have never learned it. This factor makes students haven't high motivation and more activities and unable to master Arabic very wall, and this reseach aims to improve it. In pre cycle the student's achievement everage score 41,25 and who passed the minimum mastery criteria two students. This research was cunducted in order to make a better condition of teaching and learning Arabic through the implementatioan of Think Pair Share (TPS) model. The basic foundation of this model was to make students have high motivation and more activities in teaching and learning process by discussing with their classmate. They can to interact with source of learning, they can take and give some information from their classmate. This research applied Coast Classroom Research Action with two cycle. The motivation and activity data gathered from the end of teaching and learning process, and the achievement student gathered from the end of each cycle test. This research was found that improvement of everage score for each cycle, from 41,25 in pre cycle to 69,74 in first cycle, from 69,74 in first cycle to 73,23 in second cycle. It also was found the member of students who passed KKM for each cycle, from 2 (6,25%) in pre cycle to 14 (43,75%) in first cycle, from 14 in first cycle to 19 (59,37%) in second cycle.
Keywords:
Think Pair Share, motivation, activity, achievement
PDF Downloads
Download data is not yet available.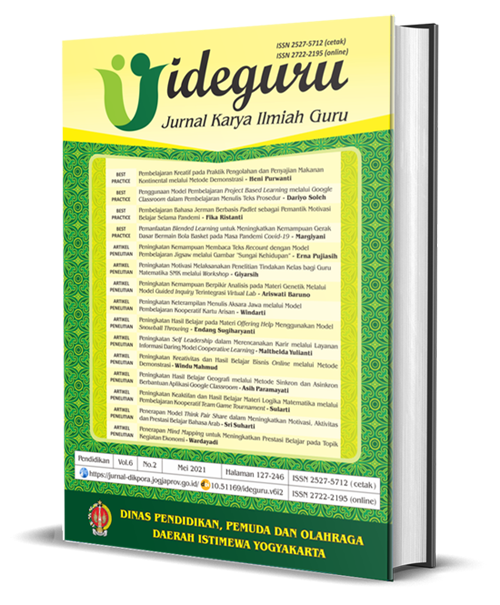 How to Cite:
Suharti, S. (2021). Implementation of Think Pair Share Model to Improve Motivatian, Activity and Achievement in Arabic. Ideguru: Jurnal Karya Ilmiah Guru, 6(2), 233-240. https://doi.org/10.51169/ideguru.v6i2.246
Section
Research Articles
Copyright (c) 2021 Sri Suharti
This work is licensed under a Creative Commons Attribution 4.0 International License.

Abstract viewed: 355 times

PDF (Bahasa Indonesia) downloaded: 391 times