The Efforts to Improve Mathematics Leraning Outcomes through the Cooperative Model Type Team Assisted Individualization (TAI)
Mintarjo Mintarjo

SMK Negeri 2 Gedangsari, Indonesia
Abstract
The research objective is to improve mathematics learning outcomes through the cooperative model type Team Assisted Individualization (TAI). The material studied was sequences and series of number. The research method used was Classroom Action Research (CAR). The research subject was 35 students of class X Light Vehicle Engineering 2 SMKN 2 Gedangsari in the 2019/2020 school year. Data were collected using written test techniques and observations. Primary data were the results of written tests. As secondary data is the result of observations. Data were analyzed using quantitative and qualitative techniques. The written test results were analyzed using quantitative techniques, while for the observation data analyzed using qualitative techniques. The research was conducted in two cycles. The result of the research is that applying the Team Assisted Individualization (TAI) cooperative learning model can improve mathematics learning outcomes. The increase in mathematics learning outcomes is indicated by the increase in the percentage of the number of students whose grades reach the KKM from pre-cycle, cycle I and cycle II. In the pre-cycle stage, there are 5 (five) students whose scores reach the KKM or 14%. In cycle I, there were 18 students whose grades reached KKM or 51%. In the second cycle, 25 students or 76% of their grades reached the KKM. Thus it can be concluded that, by applying the cooperative learning model type Team Assisted Individualization (TAI) can improve mathematics learning outcomes.
Keywords:
mathematics learning outcomes, cooperative learning, team assisted individualization
PDF Downloads
Download data is not yet available.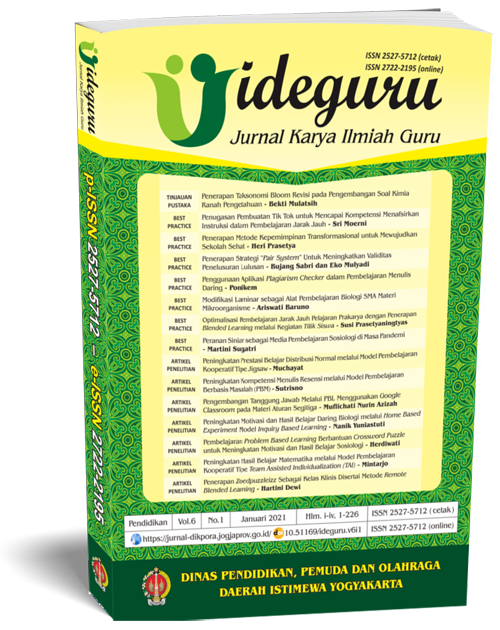 How to Cite:
Mintarjo, M. (2021). The Efforts to Improve Mathematics Leraning Outcomes through the Cooperative Model Type Team Assisted Individualization (TAI). Ideguru: Jurnal Karya Ilmiah Guru, 6(1), 108-116. https://doi.org/10.51169/ideguru.v6i1.222
Section
Research Articles
Copyright (c) 2021 Mintarjo
This work is licensed under a Creative Commons Attribution 4.0 International License.

Abstract viewed: 198 times

PDF (Bahasa Indonesia) downloaded: 222 times