Laminar Modification as Senior High School Learning Apparatus on Microorganism Subject
Ariswati Baruno

SMA Negeri 7 Yogyakarta, Indonesia
Abstract
Commonly, laminar air flow used to provide a sterile workplace, however, it could not bought because its price was expensive enough. Therefore, Laminar Modification (Lamodis) innovation was made. The purpose of Lamodis is to provide a sterile workplace with more affordable laminar because the high rate of success of a lab practice needs to be supported by a sterile workplace. The purpose of the best practice is to resolve biology lab practice failure cases related to the microorganism, with the aim that the students can access a better understanding of the material and improve their skills in every step when working on lab practice relate to microorganism. Lamodis were made with materials that can easily found but still applying the basic principle of the manufacture. The contamination test of media poured inside and outside Lamodis showed that the test inside Lamodis had a non-contaminated percentage of 83.5%, which was better than outside Lamodis which was 79%. The mean result of the questionnaire value for students was 3.31 from a maximum of 4.00 which indicated that Lamodis was good enough to be used for sterilization. The use of Lamodis improves students' skills in performing aseptic procedures. Therefore, the Lamodis made supports high school biology learning related to microorganisms.
Keywords:
Lamodis, senior high school biology learning, microorganism, sterilization
PDF Downloads
Download data is not yet available.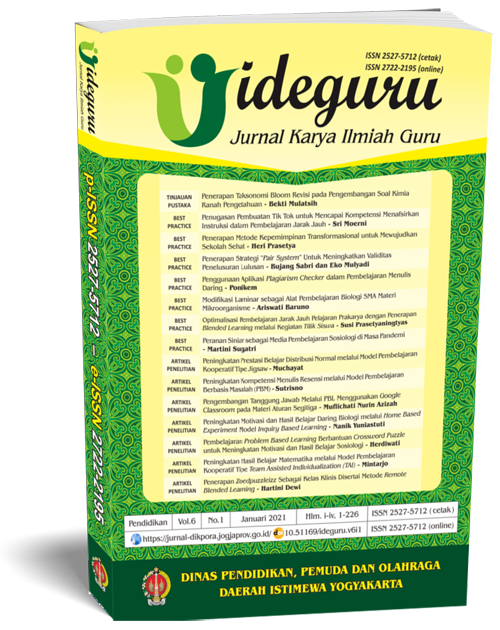 How to Cite:
Baruno, A. (2021). Laminar Modification as Senior High School Learning Apparatus on Microorganism Subject. Ideguru: Jurnal Karya Ilmiah Guru, 6(1), 44-49. https://doi.org/10.51169/ideguru.v6i1.203
Copyright (c) 2021 Ariswati Baruno
This work is licensed under a Creative Commons Attribution 4.0 International License.

Abstract viewed: 6495 times

PDF (Bahasa Indonesia) downloaded: 11327 times