INCREASED LEARNING ACTIVITIES AND OUTCOMES THROUGH ONLINE LEARNING WITH GOOGLE CLASSROOM IN THE COVID-19 PANDEMIC PERIOD
Sutrisno Sutrisno

SMA N 1 Bantul, Indonesia
Abstract
This Best Practice writing aims to: (1) describe the increase in student learning activities through online learning with Google Classroom and (2) describe the improvement in student learning outcomes through online learning with Google Classroom during the Covid-19 pandemic. The subject of the writing of this Best Practice is the students of class XI MIPA 2 in SMA N 1 Bantul in Academic Year 2019/2020, with a total of 30 students. Writing this Best Practices using descriptive methods. Information is collected based on student activities through documentation and student learning outcomes using tests. The strategy used is online learning with Google Classroom through five operational stages, namely: (1) Teacher Planning Learning Implementation Plan (RPP); (2) The teacher starts the learning and assignment material then uploads it to Google Classroom; (3) Students learn learning materials and work on assignments given by the teacher with Google Classroom using a cellphone or laptop; (4) The teacher monitors the implementation of the online learning process; (5) The teacher provides feedback online learning and the work done by students is also uploaded. The implementation of online learning with Google Classroom during the Covid-19 pandemic can increase: (1) student activity in learning. The percentage of student activeness in face-to-face learning was 71.39% with the active category increasing to 75.83% with the very active category in online learning with Google Cassroom; and (2) student learning outcomes. The average value of student learning outcomes in KD previously with face-to-face learning was 85.16 with a good category, an increase of 5.11 to 90.27 with a good category in online learning using Google Classroom on the Job Application Letter material.
Keywords:
Learning Activities, Learning Outcomes, Online Learning, Google Classroom, Pandemic Covid-19
PDF Downloads
Download data is not yet available.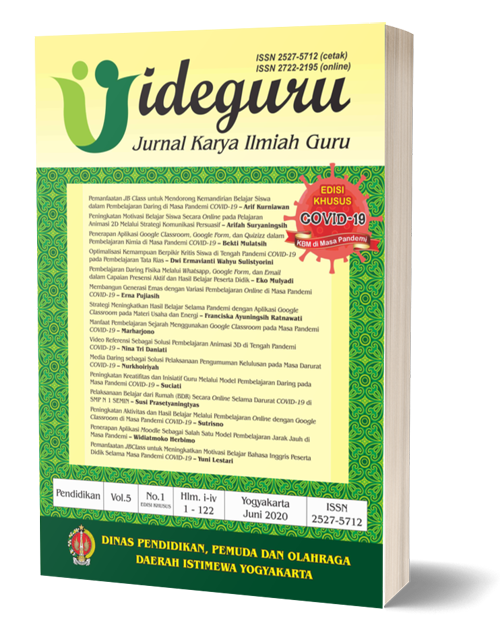 How to Cite:
Sutrisno, S. (2020). INCREASED LEARNING ACTIVITIES AND OUTCOMES THROUGH ONLINE LEARNING WITH GOOGLE CLASSROOM IN THE COVID-19 PANDEMIC PERIOD. Ideguru: Jurnal Karya Ilmiah Guru, 5(1), 95 -. https://doi.org/10.51169/ideguru.v5i1.151
Copyright (c) 2020 Sutrisno Sutrisno
This work is licensed under a Creative Commons Attribution 4.0 International License.

Abstract viewed: 4142 times

PDF (Bahasa Indonesia) downloaded: 19855 times