OPTIMIZING STUDENTS' CRITICAL THINKING IN MAKEUP LEARNING DURING THE COVID-19 PANDEMIC
Dwi Ermavianti Wahyu Sulistyorini

SMK Negeri 1 Sewon, Bantul, Daerah Istimewa Yogyakarta, Indonesia
Abstract
The objective of this best practice is to optimize students' critical thinking during the Covid-19 pandemic in makeup learning through social media that subsequently giving positive impact and improve students' achievement. The method of Project-Based Learning (PjBL) through social media was applied in this study. Due to the absence of face-to-face learning and teaching process at school, students had to accomplished online tasks and submit them at the end of the semester. Therefore, the teachers could not provide a real-time evaluation. This strategy was taken to ensure the development of students' critical thinking in the makeup learning during the Covid-19 pandemic. Results of this study reveal that the implementation of PjBL method and the application of social media for makeup learning process during the Covid-19 pandemic have improved students' critical thinking. This practice provided positive impacts, such as quick response of students in teacher's assignment; quick identification of subject matters introduced by teacher; improvement of students' ability to utilize the information obtained from various learning sources as well as students' critical thinking to gradually accomplish the assignment, student indicate active participation in discussion with teacher during learning and project report development; and students more responsible to accomplish their individual assignment.
Keywords:
critical thinking, Project Based Learning, Social Media, makeup
PDF Downloads
Download data is not yet available.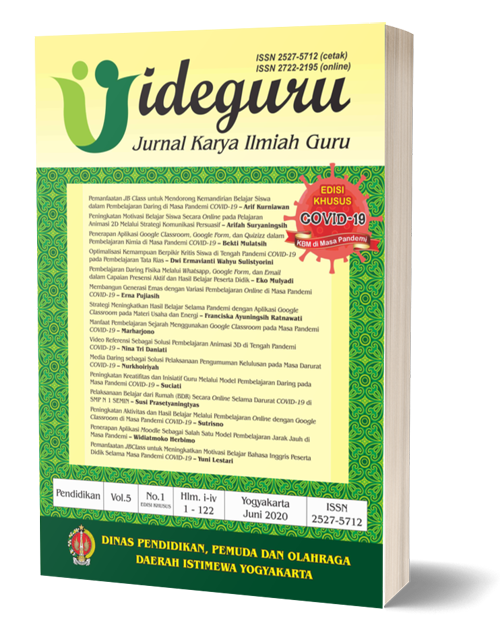 How to Cite:
Sulistyorini, D. E. W. (2020). OPTIMIZING STUDENTS' CRITICAL THINKING IN MAKEUP LEARNING DURING THE COVID-19 PANDEMIC . Ideguru: Jurnal Karya Ilmiah Guru, 5(1), 27 -. https://doi.org/10.51169/ideguru.v5i1.142
Copyright (c) 2020 Dwi Ermavianti
This work is licensed under a Creative Commons Attribution 4.0 International License.

Abstract viewed: 636 times

PDF (Bahasa Indonesia) downloaded: 2726 times