BUILDING A GOLDEN GENERATION BY APPLYING VARIOUS ONLINE LEARNING IN THE PANDEMIC OF COVID-19
Erna Pujiasih

SMA Negeri 1 Bantul, Indonesia
Abstract
Education is the basic requirement to develop a country. Students as the golden generation were prepared for the future. Teachers is the main key for education to produce high quality golden generation in 2045. Our country was facing the pandemic of COVID 19. The government applied online learning method where students had to study at home to prevent them from COVID 19 infection. The aim of this study is to give inspiration for teachers in teaching activities so that the students got noble quality education. To apply online learning, teachers needed various learning techniques to make students well-motivated. Online learning could be done by using virtual teaching, group discussion, video, recording, power point, module, worksheet, quiz, game, and online assessment. The data from questionnaire showed the strength and weaknesses of online learning where 45 % of students liked and 55% of them disliked. The strength of online learning was the students could learn effectively, got fun and got new experiences. The weakness was some students got bad internet connection, could not understand the material, felt tired , and could not discuss with friends. The problem above showed that interesting and various online learning methods would give benefits for golden generation in learning.
Keywords:
learning, online, various activity, golden generation, COVID-19
PDF Downloads
Download data is not yet available.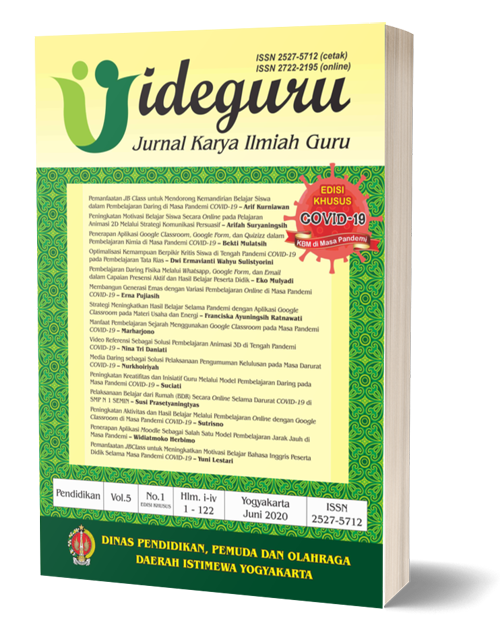 How to Cite:
Pujiasih, E. (2020). BUILDING A GOLDEN GENERATION BY APPLYING VARIOUS ONLINE LEARNING IN THE PANDEMIC OF COVID-19 . Ideguru: Jurnal Karya Ilmiah Guru, 5(1), 42 -. https://doi.org/10.51169/ideguru.v5i1.136
Copyright (c) 2020 Erna Pujiasih
This work is licensed under a Creative Commons Attribution 4.0 International License.

Abstract viewed: 8942 times

PDF (Bahasa Indonesia) downloaded: 9472 times