APPLICATION OF GOOGLE CLASSROOM, GOOGLE FORM AND QUIZIZZ IN CHEMICAL LEARNING DURING THE COVID-19 PANDEMIC
Bekti Mulatsih

SMA Negeri 1 Banguntapan, Bantul, DIY, Indonesia
Abstract
The covid-19 pandemic affect a number of sectors, including the education services. To support the education sustainability and participate in breaking the chain of covid-19 transmission, the learning activity in SMAN 1 Banguntapan was modified to comply the social distancing policy. Teaching and learning activities conducted at the respective student's location via online media. This study aims to describe the implementation of online learning activities in chemistry, to describe the implementation of online assessment in chemistry, and to determine the effectiveness of online learning activities in class of XI MIPA at SMAN 1 Banguntapan during the covid-19 pandemic. The implementation of the online learning in chemistry was consisted of seven online activities. Google classroom applications was employed for classroom management including making announcements related with learning activities, giving subject matters, delivering and collecting student assignments. Learning assessment was carried out by means of google form and quizizz applications. Based on overall online activities, the average value of students assesment and the percentage of students who passed the competence level were 79,21 and 77.25%, respectively. The competence level of chemistry at SMA N 1 Banguntapan is 78. There were more than 75% of students passed the competence level, so it can be concluded that the implementation of online learning in chemistry at class of XI MIPA in SMAN 1 Banguntapan was effective.
Keywords:
google classroom, google form, quizizz
PDF Downloads
Download data is not yet available.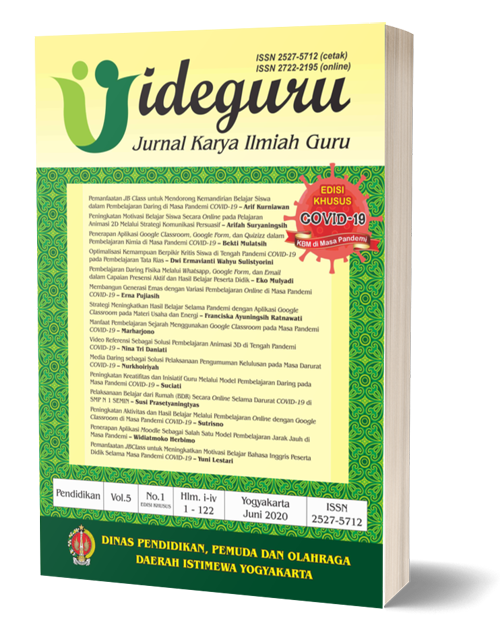 How to Cite:
Mulatsih, B. (2020). APPLICATION OF GOOGLE CLASSROOM, GOOGLE FORM AND QUIZIZZ IN CHEMICAL LEARNING DURING THE COVID-19 PANDEMIC . Ideguru: Jurnal Karya Ilmiah Guru, 5(1), 16 -. https://doi.org/10.51169/ideguru.v5i1.129
Copyright (c) 2020 Bekti Mulatsih
This work is licensed under a Creative Commons Attribution 4.0 International License.

Abstract viewed: 3511 times

PDF (Bahasa Indonesia) downloaded: 11193 times