UPAYA PENINGKATAN PEMAHAMAN KONSEP SIFAT-SIFAT PERSAMAAN GARIS LURUS MELALUI PENGEMBANGAN NILAI SIKAP KURIKULUM 2013
Widarti Widarti

SMP Negeri 1 Srandakan Bantul, Indonesia
Abstract
This research aims to improve the students' understanding concept about characteristic of the Straight Line similarity on Curriculum 2013. This study was classroom action research conducted to thirthy two students of class VIIIE of SMP Negeri 1 Srandakan. It had been conducted from August to September 2018. The data were collected using an observation sheet and questionnaires. The analyses technique of the data used quantitative descriptive method by counting the average of the students' score. The result of this research is the average score of sikapses of students' understanding in Class VIII E on mathematics using attitude improving methods. The average of students' sikapses score before the action was 73%, the first cycle on the first meeting got the average 81.85%, the first clycle on the second meeting was 83,66%, the second cycle on the first meeting was 86,05%, and the second cycle on the second meeting got the average 87,40% so there was  14,4% of students' improvement in learning using attitude develoment on Curriculum 2013.
Keywords:
Junior High School Students, concept understanding, attitude develoment
PDF Downloads
Download data is not yet available.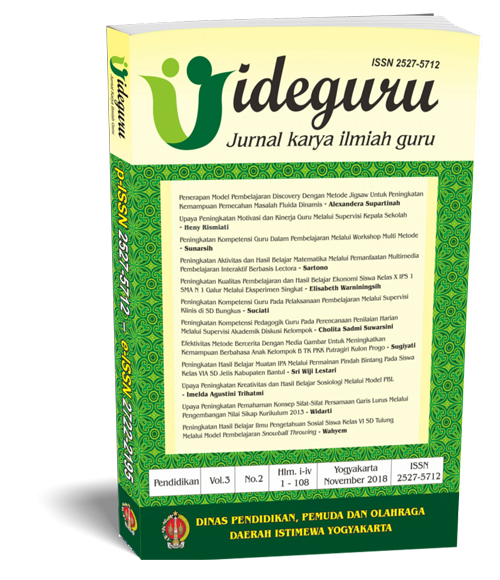 How to Cite:
Widarti, W. (2018). UPAYA PENINGKATAN PEMAHAMAN KONSEP SIFAT-SIFAT PERSAMAAN GARIS LURUS MELALUI PENGEMBANGAN NILAI SIKAP KURIKULUM 2013 . Ideguru: Jurnal Karya Ilmiah Guru, 3(2), 87-96. Retrieved from https://jurnal-dikpora.jogjaprov.go.id/index.php/jurnalideguru/article/view/60
Section
Research Articles

Abstract viewed: 101 times

PDF (Bahasa Indonesia) downloaded: 57 times