PENINGKATAN HASIL BELAJAR MUATAN IPA MELALUI PERMAINAN PINDAH BINTANG PADA SISWA KELAS VIA SD JETIS KABUPATEN BANTUL
Sri Wiji Lestari

SD Jetis Bantul, Indonesia
Abstract
The aim of this Class Action Research study was to improve the learning outcomes of natural science subject (IPA) through the Moving Star game among VIA class students at SD Jetis, Bantul Regency. The subject of this study was 33 students of VIA class at SD Jetis. The study carried out in 2 cycles. The instruments were observation, documentation, and test. The observation was used during teaching and learning process, documentation was used to collect data and student test results, and the test methods was carried out at the end of each cycle. Data analysis in this study applied qualitative descriptive technique to describe the improvement in student achievement during the learning process. Results of this study showed that there was an increase of student learning outcomes in the IPA KI 3 (knowledge) content, from 71.81 in the first cycle with a completeness level of 36.36% to 78.79 with a completeness level of 84, 85% in the second cycle. The increase was 6.98, and the increase completeness level was 48.49%. Whereas the average value of the IPA KI 4 (skills) content in the first cycle I was 69.48 with a completeness level of 21.21%. After the second cycle there was an increase in learning outcomes which was 82.48 with a completeness rate of 81.82%. The increase average was 13.00 and the increase of completeness level was 60.61%. It can be concluded that there was improvement of student learning achievement in natural science subject after application of the Moving Star game among VIA class students at SD Jetis, Bantul Regency.
Keywords:
learning outcomes, natural science subject, moving star games
PDF Downloads
Download data is not yet available.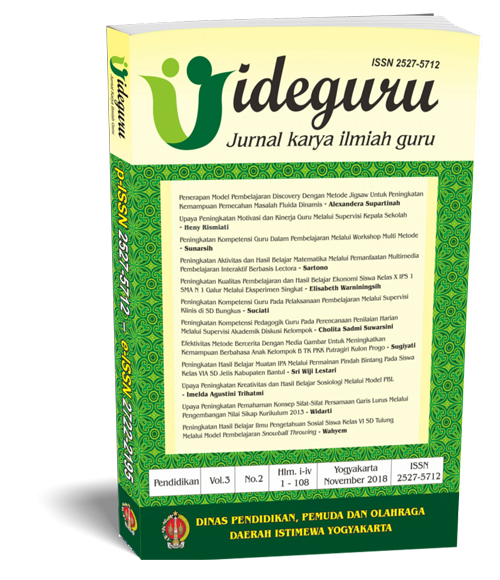 How to Cite:
Sri Wiji Lestari. (2018). PENINGKATAN HASIL BELAJAR MUATAN IPA MELALUI PERMAINAN PINDAH BINTANG PADA SISWA KELAS VIA SD JETIS KABUPATEN BANTUL . Ideguru: Jurnal Karya Ilmiah Guru, 3(2), 71-80. Retrieved from https://jurnal-dikpora.jogjaprov.go.id/index.php/jurnalideguru/article/view/58
Section
Research Articles

Abstract viewed: 76 times

PDF (Bahasa Indonesia) downloaded: 251 times